Forum calls for feasibility study on author's idea of turning WWII shelter into tourism site.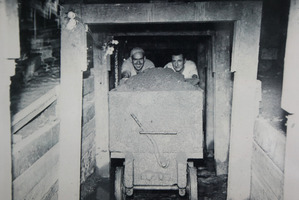 Bill Reid wrote a book, Uphill, about his 26 years trying to reopen the World War II bomb shelters in the Auckland CBD as a tourist attraction.
Yesterday, after a sympathetic hearing from Auckland Council members and buoyed by his Facebook campaign getting 8200 approval hits - many from curious young people - he changed the title to Under our Feet.
"It's for the people who walk on Albert Park and do not know what's under their feet," the 73-year-old businessman said tearfully.
He said the system of tunnels, which were excavated into the hill in case of a Japanese forces air raid in 1942-45, were the "hidden jewels in Auckland's crown".
The 3.5km complex was not used and was plugged with bricks and sealed in 1946.
It is owned by Auckland Council and a 2001 Act of Parliament allows the tunnels to be leased for excavation and commercial purposes.
Mr Reid has an agreement with the council to investigate possible developments.
"All I want is to see it opened," he said.
"The council is the chief landlord and I will get the tenants."
He presented some ideas to the council Parks, Recreation and Heritage Forum.
A potential use is for a museum which would be filled with exhibits representative of the war years and would recognise the soldiers of 28th Maori Battalion.
The estimated cost of excavation was $1 million to $2 million depending on whether it went in 60m or 138m.
Interest was also expressed in using parts of the network for glow worm caves, black water rafting and a wine cellar showcasing New Zealand wine and cheese.
The long main tunnel was suited for use by a tram running from midtown to Parnell. "This is being pitched as the biggest combined tourist attraction under one roof in New Zealand or Australia," said Mr Reid.
He was concerned to see cruise ship passengers at the waterfront with nothing to do in their five-hour visit.
"If we can bring in this historic attraction it will help them stay in the CBD."
The New Zealand wing of the Commemorative Air Force offered to provide wartime atmosphere in the museum with shows of vehicles, weapons, clothing, radios, newspapers and pictures.
Councillor Mike Lee said the network was a "great asset sitting there" and he supported the council being involved in reopening them.
The forum backed his call for a technical report on the feasibility of developing the war time museum concept.
The report would influence any council decision on whether to allocate a budget in this year or the next.
Tunnel Vision
* 3500m long complex of tunnels under Albert Park, owned by Auckland Council
* 2001 legislation allows them to be leased for excavation and commercial purposes
* 60m excavation estimated to cost $1.1 million
* 28th Maori Battalion soldiers would be honoured in a cavern turned into a World War II history museum.