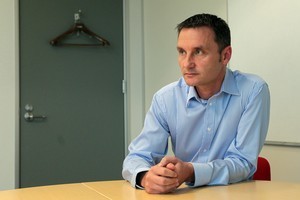 The council boss who quit over the V8 debacle that cost $39 million in public money has spoken defiantly after walking out on his job - as it emerged he may be sued for some of the losses.
Michael Redman quit as chief executive of Auckland Tourism, Events and Economic Development after he was named in an Audit New Zealand report into the V8 Supercars race in Hamilton.
He had previously been mayor and then chief executive of Hamilton City Council.
The report said Redman paid more than $3 million to the creditors of the race promoter under a compensation agreement that was not authorised by councillors.
Redman yesterday told the Herald on Sunday he resigned because of the public reaction to the report which was an "unnecessary distraction for Auckland, a progressive international city".
He made the decision on Friday, the day he met the board of the organisation behind closed doors.
"There was no golden handshake. Why would there be when I resigned under my own steam?" he said.
He said the audit report was wrong and events had not been "properly investigated".
"There quite clearly should be shared responsibility. The councillors were fully involved and should be held equally responsible. The reality is that councillors supported the event unanimously," he said.
The Herald on Sunday understands the Hamilton council could seek to recoup the money from Redman through a civil claim.
Council chief executive Barry Harris said he was taking legal advice before making recommendations to councillors on November 9.
Mayor Julie Hardaker said: "If there has been a legal breach then I would want to know about that and the person's legal accountability should be upheld."
The Hamilton council commissioned the report after costs for the motor race soared from $7 million to almost $39 million.
The report revealed Redman had worked on the V8s deal for 15 months before he told Hamilton councillors and no business case was prepared.
Councillors were not told the promoters - who subsequently went into receivership, owing the city millions of dollars - had money troubles even before a contract was signed.
Redman has been aware of the Audit NZ report since September 8 and provided a written response to two drafts.
Redman yesterday said other Hamilton councillors should also resign.
He said he had no other business interests and no immediate plans, other than to "take some time out".
Redman and his wife Kelly owned two properties in Waikato worth $790,000 but they lived in Epsom in a house worth $2.5 million.
Councillor Ewan Wilson said Redman's opinion of the report was a "self-serving fallacy".
"The Audit Office has quite rightly placed a significant level of responsibility at Mr Redman's feet. He spent, without authorisation, millions of dollars and kept that secret," he said.
"The audacity to come out now and try to say others should go is a disappointment, but it is coming from someone without any credibility."