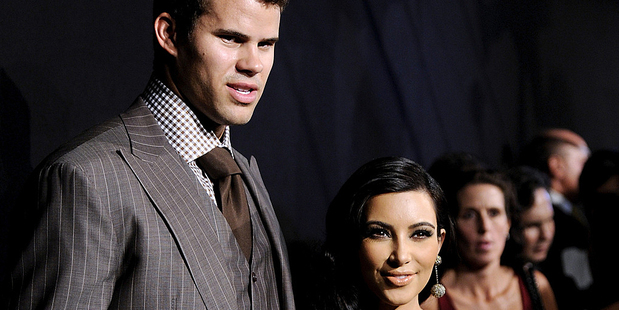 Their marriage was a 72-day wonder. But for Kim Kardashian and Kris Humphries, the saga that is their drawn-out divorce doesn't appear to be ending any time soon.
NBA player Humphries has now filed legal documents disputing Kardashian's request to set an immediate trial date to get their divorce finalised.
Scandal sheet TMZ reports that Humphries' legal eagle, Marshall Waller, has filed docs questioning the "urgency" for a quick divorce, and accusing the E! star, who is expecting her first child in July with boyfriend Kanye West, of trying to use her "apparently unplanned pregnancy" to gain advantage and speed up the process.
"What is really going on here is that an 'urgency' in the form of an apparently unplanned pregnancy, something [Humphries] had nothing to do with, is perceived by [Kim] as an opportunity to gain a litigation advantage by trying to force this court to prematurely set this matter for trial," Waller writes in the documents.
Click here to read the court docs (pdf).
TMZ notes that after the word "pregnancy" in the document, a footnote reads: "Indeed, why would [Kim] plan to get pregnant in the midst of divorce proceedings?"
Radar Online reports that the documents also state Humphries' desire that the case not go to trial yet - because "key witnesses in the case haven't been deposed" and that "he hasn't received documents he says he needs".
'WHAT ARE THEY HIDING?'
The website notes that Humphries, who wants the marriage annulled on the grounds of fraud, has requested records from Ryan Seacrest Productions, E! Entertainment Productions, and Bunim-Murray Productions. Specifically, he's seeking raw footage of the Kardashian reality TV shows.
"Indeed, if as Ms. Wasser [Kardashian's lawyer, who has previously repped Britney Spears, Maria Shriver and Angelina Jolie] asserts there really is 'no evidentiary support' to support Humphries claims, why don't they just give us the access we want? What are they hiding? What is there in the raw footage of this televised courtship, 72 day marriage and resultant breakup that they are so afraid of us discovering?" the court docs add.
According to Radar, Humphries says in the docs he has the right to be present for Kardashian's deposition, but due to his work schedule, he's not available till mid-May or June.
The reality star's lawyer appeared in a Los Angeles court last November, asking a judge to accelerate the estranged couple's divorce.
"Miss Kardashian is now handcuffed to Mr. Humphries," said Wasser.
"Miss Kardashian has a right to have her 72-day marriage [for] which she has a prenup - resolved," she told the judge. "She has that right."
The pair got hitched during a lavish, televised wedding on August 20, 2011, after a whirlwind six-month romance. Kardashian filed for divorce on October 31 citing "irreconcilable differences" according to her Los Angeles Superior Court filing.
In a statement, Kardashian said, "After careful consideration, I have decided to end my marriage. I hope everyone understands this was not an easy decision. I had hoped this marriage was forever but sometimes things don't work out as planned. We remain friends and wish each other the best."
Kardashian opened up about her problems with her estranged hubby during a recent appearance on The Late Show with David Letterman.
"I can't speak for Kris, but I just want him to be happy and I want us to move on, and that's really what I want, is just to move on," she said, while confirming that Humphries is seeking an annulment.
"The only legal way to get an annulment is if fraud were involved, so that's what's tricky," Kardashian said. "So he is suing me for an annulment based on the fact that I frauded him into marrying him for publicity."
"But fraud was not a factor here, is that right?" Letterman questioned.
"Not in my case, no," replied Kardashian.
Sister Kourtney, who appeared alongside the pregnant reality star, then chimed: "I think if she was gonna do it for publicity, she'd pick someone that people knew."
Ouch.
Check out video of Kardashian discussing her divorce below:
Kardashian recently said she would really like to be divorced before her baby with West is born.
"I'm really hopeful. I'm just hoping to get through it sooner than later. We're just - it's a process," she told the Today show.
"It's been a year and a half since I filed," she said, adding, "So I think that, you know, I definitely waited six months before I started a relationship."
A hearing on a prospective trial is scheduled for February 15.
Meanwhile, Kardashian has stirred controversy after posting (then deleting) a photo of a diamond-encrusted hand gun on her Instagram account - weeks after signing a pledge to end gun violence in the wake of the Sandy Hook Elementary School shooting.
Check out the drama here.
FAST GOSSIP
And finally...
* "Apparently the district attorney's office has completely lost their minds" - Chris Brown's lawyer slams probation challenge.
* Becks in his kecks: Shirtless David Beckham models H&M underwear in new campaign video.
* Lawsuit alleging John Travolta assaulted cruise ship masseuse dropped.
* "I didn't actually realise who he was" - Michelle Williams talks dating Jason Segel.
* Stand-alone Star Wars films confirmed. Will they feature, as reported by EW, a young Han Solo and bounty hunter Boba Fett?
* Russell Brand talks Katy Perry and John Mayer romance. And then some.
* Pink opens up to Redbook: "I was always considered butch".
* Liz Hurley finds 'stolen' car... just where she left it.
* James Cameron wins Avatar plagiarism lawsuit.
* Naomi Watts: "I do my own laundry" and "I don't have a chef". Yep, she's mortal after all.
Follow Myrddin Gwynedd on Twitter.
- Rumour Has It