Address: 506 Point Chevalier Rd, Pt Chevalier
Phone: Ph: (09) 815 6636
Open: Mon-Sun 7am-4pm, icecreams until 5pm.
Cost: $62 for two people

SET UP & SITE
Poor Point Chev. The have-money-want-to-go-out-for-breakfast crowds swamped the seaside suburb long before the decent eateries did. Now, suddenly, they're spoilt for choice. But it's been a while since the beautiful beach end of the street was blessed with a decent brunch spot. In fact, a Herald review of the previous outfit saw a cringeworthy one point awarded by my esteemed colleague, Winston Aldworth. After a two-month refit, the Pt Chev Beach Cafe is open under new management. Floor space has been doubled by knocking through to the shop next door, and in a smart move, there's an outside coffee and Kapiti icecream caravan to serve the hordes heading to Coyle Park and the beach. It's been worth the wait. The sleek modern design - stone floor, black wooden chairs and gorgeous cowhide benches - make for good looking surroundings. Winston, I reckon you'll need to dress up for your next visit.
SUSTENANCE & SWILL
The stylish fit-out is more than matched by the small but perfectly formed menu. There's cabinet food, plus all-day breakfast and lunch from 11am options. There are also three items on an all-day kids menu, one of which is a great value $7 "onesie" option - one egg, one slice of toast and, you get the picture, one slice of bacon. Perfect for the small people. But back to the grownups. We could have gone for the nourishing Shakti bowl ($16, toasted coconut, melon, banana, berries, superfood clusters) or the Tahitian vanilla nut granola ($15) ... but we didn't. I chose eggs benedict on agria rosti, crisped to perfection, with the addition of quality bacon and peppery rocket ($19). It was everything I wanted. There are salmon and vegetarian versions - the latter sounds a must try, with raw lemon zucchini, vine tomatoes, feta and dukkah. Richard went for the brown butter mushrooms ($18) with truffled potato croquettes, silverbeet, poached eggs and hazelnut cream. He thought it on the small side, and after swapping mouthfuls, declared my breakfast tastier than his. A fungi fan, I found the mushrooms sensational. It was washed down with good, strong coffee - their own blend, Beanbelt.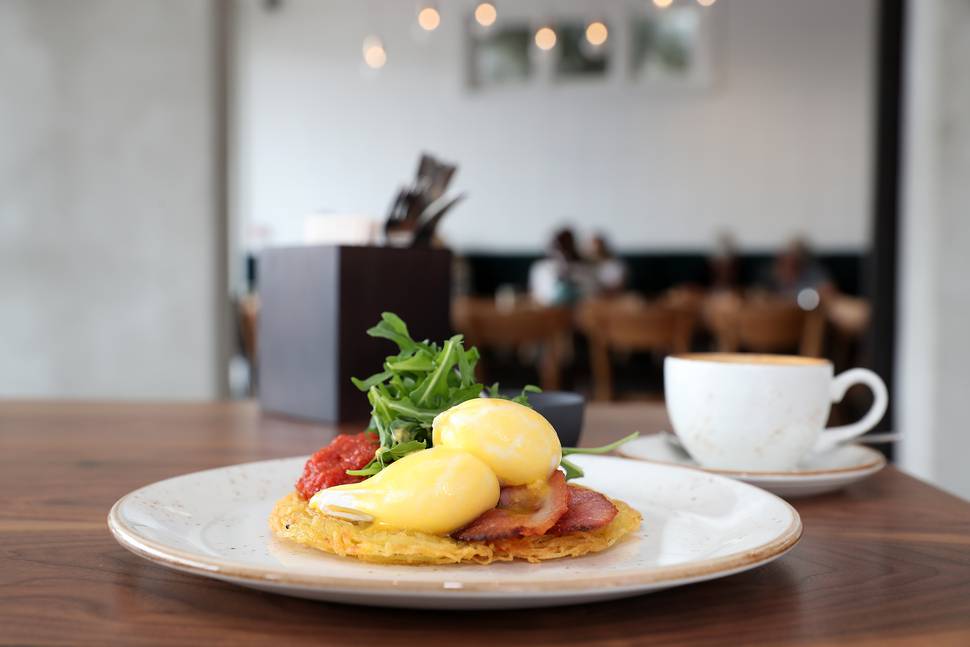 SERVICE & OTHER STUFF
It was only day three when we visited, and the crowds were rolling in before 8am. But that didn't bother the efficient, knowledgeable wait staff. Good job as there are now neighbourhood rumours of 20-plus people waiting for tables some weekends. I'm told the bosses intend introducing a pager service so punters can take a walk on the beach and be beeped back when their table is free. Great idea.