Mum's kitchen Four of our favourite Federal St chefs tell us how their mums cooked with love.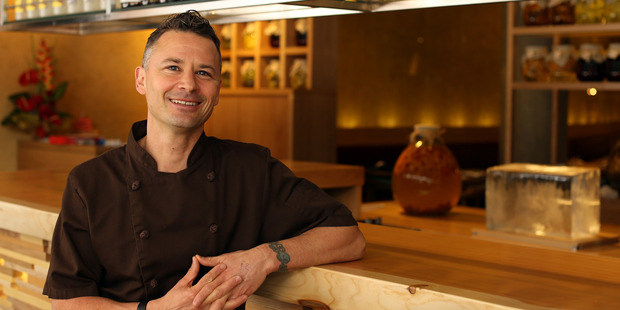 Nic Watts, Masu
My earliest food memory would have to be Mum's banana cake. She made a mean banana cake. It would be at its best on about the third day in the cake tin, so for me the challenge was not to eat it all in the first couple of days. Then on days three and four, I could have some delicious moist and ripe banana cake.
We also have a strong family tradition that has now stretched through four generations: a Sunday breakfast of pan-fried yellow belly flounder. We would go out at high tide and set the flounder net across the channel which the flounder swam in. At low tide we would collect the day's catch - fresh yellow belly flounder from the bottom end of Waiheke Island.
My grandmother on my mum's side would lightly season and flour the whole flounders and pan-fry them until the skin and, more importantly, the tails turned golden and crispy. We always served these simply with crusty hot buttered toast and lemon.
This tradition has passed down to my daughter Kiana, who is now 8 and a very competent flounder flour-duster. So much so that we have sent photos of Kiana flouring flounder in the morning over to her great-grandmother, to show this has passed through four generations.
Our boy Lucas, who is 5, will be next to take on the role of chief flounder duster. I hope and trust this will pass on to a fifth generation in time to come.
I have always said to my chefs in my kitchen this simple philosophy when creating a dish: A chef must always cook for their palate. Trust your palate and don't try to cook what you think people will like. Like Obi-Wan Kenobi said, "Trust in the force - I say "Trust in your palate".
We also have a very simple gauge on serving all dishes: Would you serve this to your mum? Most chefs would consider their mum to be the ultimate VIP as Mum probably did most of the cooking when you were growing up.
I have spend most of the last 18 years abroad, so when my family and I came home we would always ask for the family welcome-home ceremonial meal to be prepared on the first night. It was not fancy but simply a meal that would always remind me of home and why I love New Zealand: barbecued lamb rack, minted new potatoes and steamed broccoli with fresh lemon... oh! And we'd always have a great Kiwi red wine to match.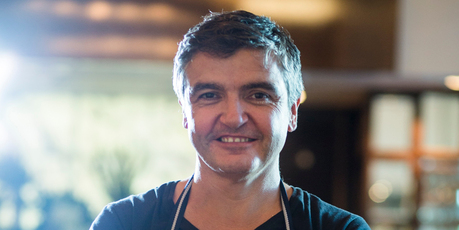 Sean Connolly, The Grill and Gusto
I remember my first day at school in a class that was mostly made up of boys. We had a choice of either woodwork, metalwork or home economics. I went straight for home economics, it just felt natural.
By that point in my life I'd been interested in cooking for four years.
I love to listen to my mum's mum, Grandma Esther, talk about how they used to cook in the war years for large families with wartime rations. It's amazing what you can do with animal fat, flour and water.
Grandma Esther was a warm generous lady with a very large laugh. Maybe that's where my interest in food started.
But it was my mum Margaret who had to suffer the messy kitchen, the endless a shopping lists and give me the generous oohs and ahhs when things weren't as good as they could have been.
I remember buying the Hamlyn All Colour Cook Book under the vague guise that I bought it for Mum - but she knew. Most people remember their first record, but I remember my first cook book.
Once my mum realised that I loved cooking she was a huge support, financing all my cake projects, cooking for family events, baking many cakes... .
Nowadays we don't cook together but I cook a lot for her when she comes to my restaurants here in Auckland and Australia.
As you would imagine she uses very kind adjectives like "beautiful" and "lovely" and sometimes even "fantastic".
She is very proud and I am very proud of her, she is my best friend.
When I run professional kitchens today I still use my mum's recipe for short crust pastry. It is amazing - half lard, half butter (but I do add an egg yolk. I'm not sure what my mum would think of that). There is something special about adding lard to pastry.
My other favourite thing to use is suet - something I'm sure that was passed down from Esther to Margaret. It makes my heart melt when I eat her recipe for suet dumplings, they are simply divine.
And Margaret's corned beef pie is sublime: very, very short crumbly savoury pastry with the sweet salty corned beef filling served up with gravy and mushy peas. It inspired my duck pie and foie gras pie floater that I served in both Astral [Sydney] and The Grill until recently - I might bring it back at The Grill with the cold weather coming on.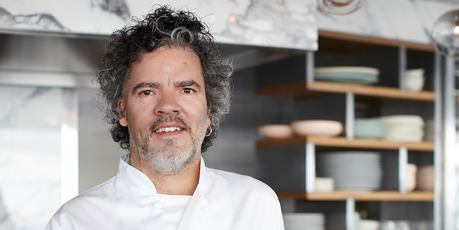 Peter Gordon, The Sugar Club and Bellota
My earliest food memory of my mum was sitting on the bench at the family house in Wanganui, aged around 4, helping her make apple pie. I know that sounds very The Waltons but I remember it clearly. I don't, however, have any recollection of what it tasted like.
The kitchen rules that I learned from my Gran, Molly Gordon (Dad's mother) are still with me. Molly taught me to be neat and tidy and to always have the cooking dishes washed before you sat down to a meal. I continue doing that and it's a blessing to have dinner and then have very little to clean up afterwards.
When I run my professional kitchens today, I still do that: cleanliness is next to Godliness. I think that's a line from a film or a book, but I'm often saying it.
But then again, not everything I do is "Mum-approved". My other mum, my step-mum Rose (aren't I lucky having two?), is always amazed at the amount of olive oil I use in dressings as she feels it's excessive. But I love cooking at home for her, and she and Dad like it too.
The food that says "mother's love" to me is Mum's slow-cooked lamb shoulder and roast potatoes, or Rose's corned beef with mashed spuds.
I've often written in the Herald about my mum Timmy's pavlova (search "Timmy's pavlova" on bite.co.nz), but she's actually a Jackie of all trades when it comes to cooking.
Her baking is legendary and she's always experimenting with things, adding some chocolate chips and dried mango to a biscuit dough, or adding desiccated coconut to a chocolate slice.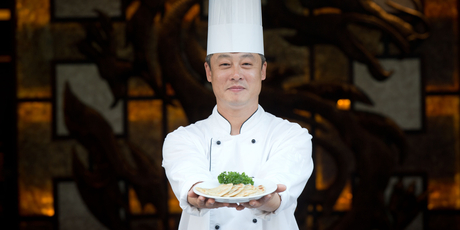 Zhi Hua Cai, Jade Dragon
My earliest cooking was Mum making Chinese pancakes with dumplings and noodles, in the north China-style. We are from Beijing, so it was more about noodles than the rice they use in the south, and definitely not spicy. They are made with a thin batter, using flour, water and spring onions. Even today I still use the same method, although I've changed some of the ingredients.
I liked to play around with food when Mum was cooking, especially at Chinese New Year when everyone was there. My mum did all the cooking, the skilled part. But just for fun I'd like to be there.
Today in the restaurants the cooking is more Cantonese-style, with different flavours. In Beijing, the fillings would be pork, beef and lamb cooked yum cha-style, with a bigger piece of meat. I cook in a totally different world from Mum's, but my influence is from the whole family - every day now, my dad likes to cook. I'm the only one who is professional, but everyone likes to eat. When I go back to visit, I cook Cantonese for the family, but they don't like the flavour - they are used to less salt than we use here.
Mum's rule was always about hygiene, keeping a tidy work space, because Chinese food can make a big mess. It's the same training I give to my young chefs, it is very important to be cleaning up as you go.
The food that says family to me is enjoyed the traditional way - bringing a family together, eating at home, the whole family atmosphere. It is totally different feeling from cooking [professionally], it's the company that is important.
Follow Life & Style on Twitter and Facebook.