Address:
SkyCity Grand Hotel, 90 Federal St, Auckland City
Phone:
(09) 363 6278
Rating out of 10:
Food: 8, Service: 7, Value: 7, Ambience: 8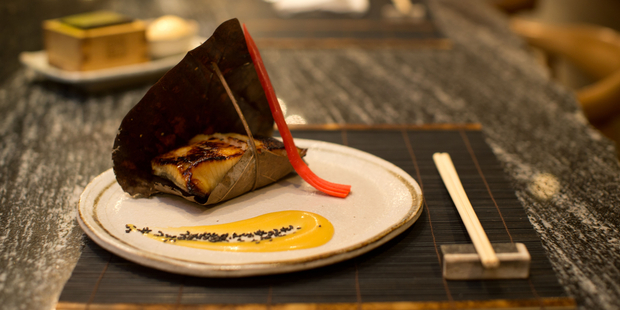 Lonely Planet may have gone several steps too far in naming Auckland in a top-10 world city list but in the category of eating out you could make a plausible case. Loyal Aucklander as I am, I believe there are few small cities so blessed with choice when it comes to good restaurants and now there's another to add to the growing list of places you wouldn't be embarrassed to recommend to the hardest-to-please customer.
New Zealand chef Nic Watt has opened Japanese robata restaurants in world-ranked cities from London to Macau and Hong Kong and now has added Masu to the stable, operating under the SkyCity umbrella. Robata is a Japanese version of charcoal grilling and it is literally at the heart of this new venture, with one set of seating clustered around the glowing grill area, which sends its appetising smells around the big, stylish open-plan venue. We were at a conventional table, which was comfortable enough if a bit prone to being bashed by passing diners and the constant staff traffic.
In addition to the robata, food also comes from a sashimi counter and from what they call the kitchen, which turns out other dishes including an impressive tempura section.
This is sharing-style food, with even the main meals being intended to be sampled by all and it delivers a steady stream of delights.
Between four of us we tested a pretty wide range, from modest little soft-shell crab maki rolls to the top-end marinated black cod, which comes in at a bruising $48. There was hardly one disappointment in 13 dishes and several were outstanding. The pork and kimchi gyoza were the best I have tasted and the big clams tobanyaki were terrific, with the garlic, green chill and ponzu butter dressing enhancing rather than masking the shellfish's sweetness. The five-piece sashimi selection was superb, more thickly cut than usual, practically boasting about its freshness.
When we played at the game of "what was the best dish?" it was a tough contest. The main ingredients are left to speak for themselves, with just enough accompaniment to underline their excellence. Although there is a typically Japanese emphasis on seafood, the lamb cutlets made our home-barbecue specialist groan with envy, tender meat with the inimitable charcoal flavour and a bright Gochujang Korean condiment that I'm told is made from red chilli, glutinous rice, fermented soybeans and salt.
The beef fillet, with chilli garlic sauce and sesame, was melting but with plenty of taste.
The cod marinated in miso and with the citrus tang of yazu was sweet, with a flaky texture not found in the usual species of fish which dominate Auckland menus. But it was out-voted in our popularity poll by perfectly cooked hapuku, enlivened by a jalapeno and ginger dressing, punchy but not overpowering.
As it so often is in good Japanese restaurants, the food is beautifully presented, with the jumbo prawn particularly attractive and our dessert choice of a chocolate and hazelnut pudding topped with green tea powder as pretty as it was delicious. Our other dessert of chocolate icecream with a moist almond cake was similarly good.
The service from a notably multi-national crew was slick, which is an appropriate summary of the approach of this classy eatery, which is already pulling in swathes of the Auckland smart set.


Our meal: $415 for 13 dishes ranging from edamame beans at $6 to black cod at $48 and including two desserts plus a bottle of wine.
Our wine: A cracking wine list, all from New Zealand except the champagnes and with some unusual items. We thoroughly enjoyed a 2009 pinot noir from Misha's Vineyard in Bendigo, central Otago.
Verdict: A smart act offering the possibility of a comparatively modest taste of the best of Japanese, up to a wallet-shattering blow-out, with the food almost getting there.