Address:
91 Federal St, Auckland
Phone:
(09) 363 3000
Rating out of 10:
Food: 8, Service: 8, Value: 7, Ambience: 8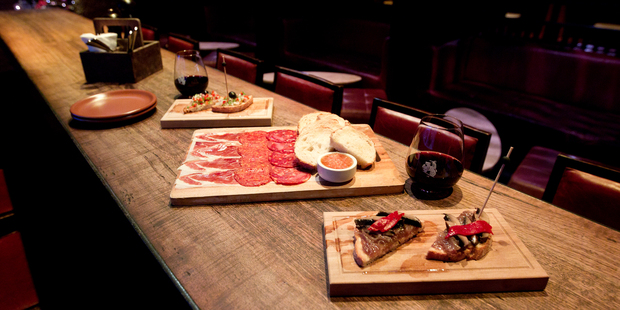 My mother drank sherry and her twin drank gin. Although this may sound like a line from an old music-hall song, there is a point to it.
The sherry was terrible - sickly sweet and syrupy; sufficiently bad for me to swear off the stuff for life.
But a recent visit to Bellota, the tapas bar at SkyCity, has changed my mind. Sherry is, in fact, delicious.
Tapas were originally pieces of bread used to cover your glass and keep the flies out of your drink. They acquired toppings and took on a life of their own, becoming another reason for visiting a bar rather than just for the alcohol. And sherry is the traditional accompaniment.
So who am I to fly in the face of history? A glass of Tio Pepe was ordered and delivered, and I sipped. And was converted.
It was the ideal foil for the pan de fernando - lightly grilled bread with wee oven-roasted tomatoes to smash into it and a slice of jamon serrano (the famous Spanish ham) on top. Perfection.
Our shared charcuterie platter also held two different types of chorizo, which were just as good as the ham, and a wee bowl of light tomato relish, delicately flavoured.
From the pintxos menu of small bread-based tapas, we chose a tortilla of potato with roasted green capsicum and tomato, and the chicken escabeche, shredded meat with a red capsicum and onion compote. They came skewered to the bread and were, again, delicately flavoured and delicious.
On to the tapas proper, and croquettes of various kinds appealed. Bill loved his goat's cheese croquetas with runny honey and slivered almonds, enjoying the smooth mild cheese offset by quite strongly flavoured honey. My croquetas of chicken and jamon were topped with a trickle of cheese sauce and were tasty enough without being spectacular.
A traditional tapas menu does not offer dessert, but Bellota has included a few choices, including churros and an incredibly sweet-sounding tart of condensed milk and mascarpone, topped with espresso. We were sufficiently full from our earlier dishes though, and passed.
Bellota is not a large space, the indoor area comprising mainly small half-moon bays with banquettes along one side and slightly larger spaces with chairs and tables along the other. Though the lighting appears dim, it's sufficient to allow you to see what you are ordering and eating.
As a place to visit to impress or just for a quick drink and bite in the central city, it would be hard to beat.


Our meal: $102.50 for a shared plate, five tapas, one sherry, one beer and two glasses of wine.
Wine list: Almost exclusively imported from Spain, Portugal, France and Chile, and thus containing plenty of previously untried wines and beers. Bill's Negra Modelo beer was pretty ordinary, but his Papa Luna Grenache and my Huella de Adaras sauvignon blanc were excellent.
Verdict: This is the place to take your new boss/out-of-towners/new partner, if you want to impress with an authentic tapas experience. Slick and friendly service and very good food.