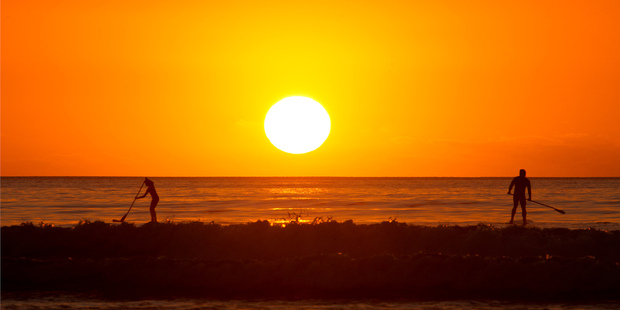 Northland is the most popular summer holiday destination, according to an Automobile Association survey.
Just over half a million people flocked to Northland's beaches between December and February, making it the country's favourite summer holiday destination ahead of Auckland (376,000 visitors) and the Coromandel Peninsula (353,000).
Aucklanders flocking north to hit the beaches after Christmas make up the vast majority of Northland's annual summer tourism boom. Over half of the region's 1.5 million visitor nights occurred in January, with 80 per cent of the holidaymakers starting out in Auckland, the survey found.
"We're close to New Zealand's largest city and we have got the most pristine beaches in the country," said David Wilson, chief executive of the region's tourism body, Northland Inc.
"This season by all accounts was quite good."
The challenge for Northland was to entice people to visit outside of the summer months and to explore the region beyond the Bay of Islands.
"We've got a bit of work to do in trying to get the shoulder seasons and the off-season up in terms of visitor nights," Mr Wilson said.
A project to revitalise the Twin Coast Discovery Highway tourist route, which will include new signs and digital support in the form of a website and smartphone apps, was already under way. "People will be able to get rapid information about areas they might want to go to that are off the beaten track. Basically, we'll market the region better."
Auckland just pipped Coromandel for second spot in terms of visitor numbers. However, holidaymakers stayed longer in the Coromandel, meaning the region racked up more visitor nights.
Auckland was a vibrant and exciting region with many attractions, said Auckland Tourism, Events and Economic Development chief executive Brett O'Riley.
"There's everything from big-name concerts and major sporting and cultural events, to exceptional restaurants, nightlife, and shopping. But more than that, Kiwis are realising that as well as the big-city experience, Auckland has an amazing region to explore, with its harbour and islands, vineyards, rainforest and leisure activities," Mr O'Riley said.
In the South Island, Canterbury, excluding Christchurch, was the busiest holiday destination with 329,500 visits resulting in 693,700 visitor nights. Nelson was next with 204,600 visitors in the three months to the end of February with 642,400 nights. On average, visitors stayed a day longer in the Nelson region compared with Canterbury.
The AA's Traveller Monitor Survey has analysed more than 25,000 responses since July last year. It found that while more people holiday during summer, they tend to spend less.
"This is because people change their behaviour when they're on their summer holidays, especially those heading to beaches and holiday homes," said Shane Vuletich, managing director of Fresh Information Company, which did the survey for the AA.
He said people spent about 25 per cent less than on similar trips at other times of the year.