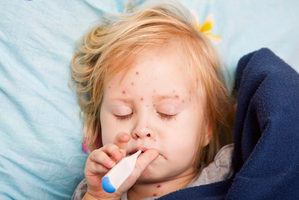 Another seven cases of measles have been confirmed in the Auckland region, taking the number of notified cases in the area to 52 this year.
Some 26 of those cases are students of Westlake Boys' High School and family members.
North Shore Hospital and Waitakere Hospital emergency departments had seen seven confirmed cases of measles since January 1, five of them at North Shore Hospital since February 1, health officials said.
The recent increase in community-spread cases was a strong reminder to immunise, Waitemata DHB chief executive Dale Bramley said.
"Immunisation is the only effective protection for yourself, your family and to limit spread in the community," said Dr Bramley, a public health physician.
"Scheduled measles immunisation should be done at 15 months and 4 years but if they were overdue or adults and school-aged children hadn't been immunised, now was the time to do it."
"The vaccine is free and available from your GP for children and adults who aren't immune," he said.
Around 277 children in the Waitemata district were overdue for their 15-month-old immunisations. There were another 389 5-year olds who had had only one measles immunisation and needed their 4-year-old immunisations for long term protection.
"We strongly encourage the parents and caregivers of these children to contact their GP for immunisation as young infants in particular are most at risk from the effects of the disease," Dr Bramley said.
Measles is a very infectious viral disease that starts with a high fever and respiratory symptoms which may include a runny nose, cough, red eyes and small white spots inside the mouth.
Last week the Auckland Regional Public Health Service warned that passengers flying Malaysia Airlines from Kuala Lumpur to Auckland on February 20 may have been exposed to measles.
Medical Officer of Health Dr Catherine Jackson confirmed a passenger on flight MH0705 from Manila to Kuala Lumpur on February 19 and flight MH0131 from Kuala Lumpur to New Zealand, arriving in Auckland at 1pm on Feb 20 had measles.
People from the flight were being contacted by the Public Health Service.
A baby with measles on a flight from the Philippines to New Zealand via Singapore in January also sparked a public health warning, and a group of New Zealanders who attended a hip-hop competition in Australia in December also brought home the disease.
- APNZ