Nicky Pellegrino recreates the summer tastes of the island that inspired her book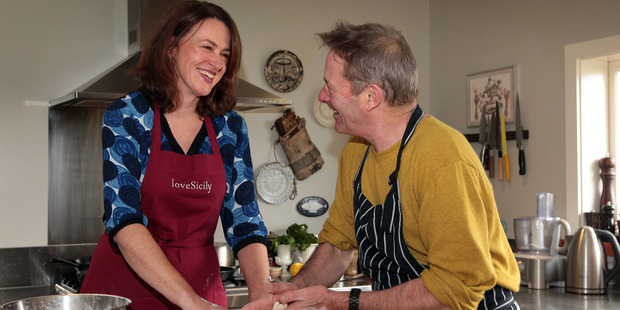 You think you can cook until you find yourself in a kitchen beside a real chef. A day with Living's Grant Allen recreating some of the dishes I experienced while researching my latest book showed me that I have a thing or two to learn. Grant cooks in a relaxed way, almost as if it's incidental to everything else he's doing: talking, laughing, producing cups of coffee. I have to concentrate on every step otherwise ingredients start going into the pan in the wrong order. Mind you, I don't seem to produce as many dirty dishes as Grant manages either ...
For my novel The Food Of Love Cookery School I journeyed to Italy's far south and spent a week on a Love Sicily food holiday with another great cook Katia Amore. She showed me how to recreate the unique tastes of this sun-soaked island.
The food of Sicily differs from that in other parts of Italy. It has been invaded many times - by the Greeks, the Spanish and the Arabs - all have left something behind to enrich the cuisine.
Spices are used; lots of nuts and honey; vegetables are served agrodolce - the traditional sweet/sour flavour Sicilians love that shows up in dishes such as the eggplant-based caponata, as well as fragrant stews of chicken and olives.
This is a simple, healthy way of eating. You don't have to be a chef to master caponata, and it's the perfect accompaniment to summer's barbecued meats and grilled fish. And if you think making fresh pasta is too complicated, the Sicilian method will change your mind. They don't add egg to the recipe or stuff the dough with cheese and meat as they do further north. There's no need for fiddly machines either.
It's simply a matter of mixing semolina flour with a little water, then kneading and shaping the dough or rolling it flat with a rolling pin. At Love Sicily, we used a ridged wooden board to make shell-like cavatelli. Even simpler are maltagliati - the name means badly cut and that's exactly what they are.
My own food heritage is Neapolitan. My father is from a small town in Campania and, although he raised us in the north of England, we spent summer holidays with his family eating the amazing food my aunts seemed to cook effortlessly, whether they were feeding five or 25.
I'd watch them rolling out gnocchi on a long marble table as chickens scuttled beneath it, waking early to produce trays of baked pasta and meatballs to eat at the beach, blistering ripe peppers over a wood-fired barbecue, steeping peaches in red wine.
My childhood memories are of my father recreating those same dishes back home, of pasta drying on every flat surface of the house - the tables, the kitchen counters, even the beds - of sauces bubbling on the stove. And the family gathering around the table to eat and argue and laugh and eat some more.
Perhaps that's why food has featured so strongly in all seven of my novels so far. For me it's about so much more than just nourishment. Food is comfort, a way to show you care, to commiserate and celebrate, perhaps even to seduce.
As the character of Vincenzo says in The Food Of Love Cookery School: "Food is a kind of miracle really, isn't it? You take the raw ingredients, transform them in endless ways, put them in your body and eventually they become your skin, your hair, your blood. What could be more magical than that?"


Recipes
• Grant's Caponata
• Grant's Spaghetti with Anchovies and Breadcrumbs
• Cavatelli with Cinnamon and Sausage Sauce
• Chicken Agrodolce


Five readers have won Living's The Food of Love book giveaway and double passes to the October 10 Whitcoulls event. They are Cheryl Sims of Pakuranga, Beth Finer of Kerikeri, Bradie Paul of Opotiki, Ann Frewen of Waitakere and Kumiko Tsutsumi of Greenlane. Ten readers have won double passes to Nicky and Grant's event; Geeta Nana of Manukau, Rachael Te Aotonga of Waitakere, Hunter Wilson of East Tamaki Heights, Natalie Stephenson of Mt Eden, Jill Byrne of Hillcrest, Lorraine Woodall of Eastern Beach, Paul Kane of St Heliers, Jane Ranum of Howick, Rob Dowler of Hauraki and Yolanda Scullard of Pakuranga Heights.
• Nicky Pellegrino will be in conversation with Living food columnist Grant Allen at Whitcoulls Corner, Queen St, Auckland, at 6pm on Thursday October 10. There'll be drinks, nibbles and treats. Tickets are $10. Call (09) 984 5400 for more information.
• Grant Allen is on holiday.