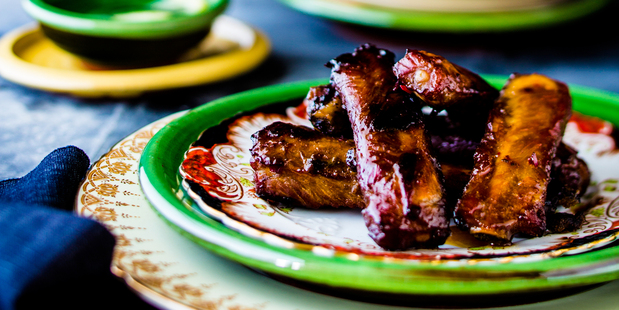 Serves 4
• Marinade
• 4 cloves garlic, crushed
• 1 red chilli, chopped finely
• 2 Tbsp honey
• 2 Tbsp soy sauce
• 2 Tbsp kecap manis
• ¼ cup orange juice
• 3 star anise
• 1.2kg small spare ribs


1. Preheat an oven to 200C.
2. In a medium-sized bowl combine the garlic, chilli, honey, soy, kecap manis, juice and star anise. Mix until well combined.
3. Wipe the meat dry, and separate into single ribs if this is not already done. Place the ribs into a lined roasting dish. Pour over the sauce and mix well.
4. Place into the middle of the oven for 30 minutes, turning once after 15 minutes.
5. Serve the ribs while piping hot with the sauce from the bottom of the pan.
6. Provide finger bowls as the ribs will be sticky.
- VIVA