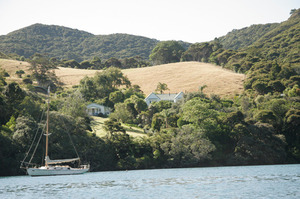 The Great Barrier Island's history is one of a ruthless pillaging of natural resources - mining, kauri, whales - and now only the sustainable industries remain. Its isolation ensures an incredible bounty and diversity - of both people and wildlife.

Here's one for those who think Gareth Morgan's anti-cat crusade is misguided: Great Barrier Island is free of stoats, weasels, ferrets, possums and hedgehogs. The only critters threatening vulnerable birds and their eggs are rats and a resilient population of feral cats.

Ask Scott Cronin of Glenfern Sanctuary, a 230Ha wildlife preserve on the end of Kotuku Peninsula on the west coast of the island, whose job it is to keep the pest numbers as close to zero as possible. Doing most of the job is a pest-proof fence stretching two kilometres across the peninsula, but the wily cats still get in, and for some reason rats take it into their heads to swim the 200m across the bay to get into the sanctuary.

Nesting in the hollow logs of puriri trees in the valley is a critically endangered population of black petrels. Cronin takes me to see one of their chicks; a ball of grey fuzz sitting patiently in the darkness for its parents to come back from the day's fishing.

The odds are ridiculously stacked against these birds: they don't nest until they reach the age of seven, then have just one chick in the hollow log of a tree at ground level in the thick bush. It is unattended for much of the day, in either egg or chick form, from November until May, when it is ready to leave the nest. For a cat, it's the easiest pickings imaginable. "The petrels have no protection," says Cronin.

Scott and his wife Emma are Aussies, whose adventurous lifestyles (he is an outdoor pursuits instructor, she a marine biologist) led them here where they met the late Tony Bouzaid.
By the time they arrived, Bouzaid had abandoned his past life an entrepreneurial businessman and given full reign to his desire to restore this bit of Great Barrier Island to what he remembered as a child - full of bush and birdlife.

To begin with, he bought the decaying 100-year-old Fitzroy Homestead. A massive restoration project saw the home completely transformed into the luxurious home it is today. ?Meanwhile he started planting native trees in the surrounding hills; turning the farmland back into the bush he remembered.

Yachties who have not been to Fitzroy Harbour in a long time will not recognise it; some 15,000 trees have been planted to date, covering the grassy hills with a verdant bloom of new native growth. He then set about convincing his neighbours to allow him to trap rats and cats on their land. Having purchased Glenfern in 1992, he promised his family that he would give the project six years; he died suddenly in the living room of Fitzroy House almost 20 years later, still very much involved in the work.

His legacy is the pest fence making a sanctuary of the peninsula, new wetlands and regenerating native forests. His work is etched into the hillside. ?But he has equally passionate protégés in the Cronins.

They work long hours and inspire a large group of volunteers and the local community to attack the challenge of keeping the place pest free for the sake of the species in so much trouble. They dream of that pest-free status being extended to the entire island.

Beyond the mouth of Fitzroy Harbour and across the bay is the home of Sven Stellin. His 2000 acres - once a farm - has regenerated, and is now covered completely with manuka and kanuka trees. Accessible only by boat, Stellin has lived here all his life (as a boy he travelled each day to school in a dinghy) and now makes his living by distilling kanuka and manuka oil.

Two days of labouring on the hillside sees him gather enough foliage to bring back down to his distillery. A tonne of leaves produces just a few litres of this precious oil which he puts into a range of products.

It's incredibly versatile stuff; good for mouth ulcers, sore gums, bad breath, sinus trouble, acne, stiff joints, arthritis, bee stings, athletes foot, dandruff, psoriasis and headlice. It's also a broad spectrum anti-inflammatory, antibiotic, antiseptic, anti-viral, antifungal oil and a natural insecticide.

Like all Barrier properties, there is no mains electricity, so the whole process is powered by solar power and waste oil from the island. "On a sunny day I can complete a full distillation without using a generator," says Stellin.

Another of the traditional means of making a living on Great Barrier - honey production - is also making a comeback. Manuka honey production has a long history on the island, and the Milk, Honey and Grain Museum at Claris is the best place to find out more. A street on the east coast of the island bears the name of Blackwell - a famous name among Barrier beekeepers. In the 1860s settlers arriving on the island included George Blackwell who, frustrated at trying to eke a living off a 40-acre plot, tried his hand at beekeeping. Within nine years he had 500 hives, and in the 1895 season he canned 10 tonnes of honey, which was exported to England.

The success of the honey industry continued with the Blackwell name, with some three generations taking up the reins. The industry went into decline in the 1960s, but the recent demand for the 'best honey in the world' has revived the industry.

Opposite page: The historic Fitzroy homestead. Below : Scott Cronin tries out the kauri swingbridge. Above left: Barrier Gold products. Below left:: A local after successful spear fishing trip. Bottom: the memorial to the late Tony Bouzaid.

Visit Glenfern Sanctuary and stay in the luxurious and historic Fitzroy House or the adjacent, cute Seaview Cottage. As well as a unique nature experience there are kayaks, a brilliant jetty for fishing from or jumping off and brilliant bush walks, the highlight of which is a swing bridge into the crown of a 600 year-old kauri. Glenfern.org.nz

Great Barrier Gold - To arrange a visit to Sven Stellin's distillery call him on 09 4290217.?Barriergold.co.nz

Getting to and from Great Barrier Island
Car ferry - The Sealink car ferry leaves from Wynyard Wharf in Auckland, and throughout the summer (until April 3) it sails five days a week (no sailings on Monday or Saturday), leaving Auckland at 8am and returning at 3pm from Tryphena.
It's a decent trip at 4.5 hours, but a bonus is you can fill your car with supplies before you go. The sealife tally for our trip; one pod of jumping orca whales; umpteen dolphins; three thrashing schools of kahawai; one shark and two flying fish. Sealink.co.nz