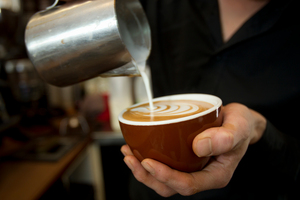 The number of New Zealanders buying coffee has plateaued in the last five years, a study by market research company Roy Morgan suggests, but Kiwi baristas disagree.
Five years ago four per cent more New Zealanders were buying takeaway coffee or tea compared to Australians.
"Australians were slower to embrace [the cafe culture] with quite the same zeal as New Zealanders,'' said Pip Elliott, general manager for Roy Morgan Research NZ.
However, over the last five years cafe visitation in Australia had increased to match New Zealand.
"Growth across all age groups indicates that this may be a continuing trend, whereas the market in New Zealand seems to have plateaued.
"Now is the time for Kiwi cafe operators to up the ante and try to buck this trend - recognising which customers have the most potential for growth and targeting them with appropriate marketing,'' Ms Elliot said.
Auckland baristas disagreed with the survey's findings, and said cafe coffee drinking was more popular than ever with Kiwis.
Norie Yamazaki, assistant manager of Espresso Workshop Britomart said trade was steady.
She said: "We haven't seen any big ups or downs. We get a lot of trade coming in from the business people who use the shop everyday.
"We're a specialist shop and doing as much as we can to attract customers and work hard.
"We don't just do espressos, we have a really wide range of coffee to keep customers interested.''
The shop is managed by David Huang, two-time Auckland Barista Champion, together with Kayoko Nakamura, who was runner-up to David at the 2010 Champs.
Averil Clarke, who runs the Customs Coffee House in Auckland's Customs Street East, also disagreed with the research.
She said: "If anything we're seeing more Kiwis than ever coming out to drink coffee and tea.
"I don't think the number of customers is plateauing at all.
"Customers are getting more fussy about their drinks and want good quality. We're a specialist coffee shop and the unit has been here for over 60 years, so people have memories of coming here.''
Nilesh Govind, 23, who manages the Glass Box coffee shop in Britomart, said coffee drinking was more popular than ever, and more independent shops were opening.
Selena Hundell, brand manager for Caffe L'affare in Wellington, said businesses were doing all they could to keep customers happy.
She added: "Wellington is arguably the coffee capital of New Zealand and we're testing our coffee everyday to make sure it reaches our high standards.
"We have a strong, steady clientele, and have not seen any decreases.
"Customers know more about coffee than ever, and there is more of an interest in soft brewing and giving customers new coffee experiences.''
- APNZ