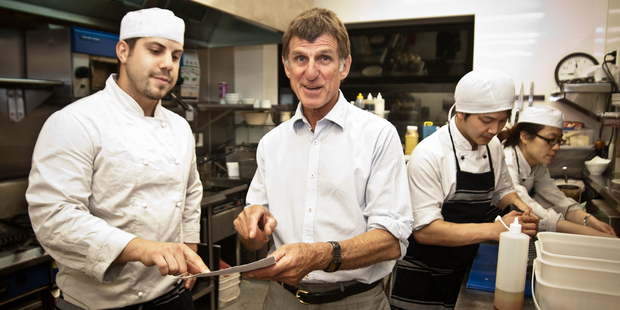 St Asaph Street Kitchen
When the Christchurch Art Centre's clocktower fell down in the earthquake, James Jamison's iconic Le Cafe was done in.
Also losing his city apartment in the quake, James had some serious thinking to do.
He retreated to his Sumner bach and started reviewing the situation.
A post earthquake call from a Canadian friend proved an encouraging and hopeful portent for James. She had dreamed that James had a bar called the Stray Dog.
It seemed to him, that, in a way, he and many others in Christchurch were like stray dogs - homeless, baseless, looking for somewhere to be and settle.
James had a long term view - he wanted to establish something permanent, be part of the new city at the ground level.
Two years down the track, The St Asaph Street Kitchen and Stray Dog bar is open, smack in the middle of what was the red zone.
The industrial carcass of the building houses a long-line bar and the brightly lit open galley kitchen dishes up the tastiest of bistro and home style food. Dark tones and solid colours and create an intimate feel at table level. This place is a forerunner of the emerging Christchurch and I guarantee will become one of the new city's eating institutions.
James has shared a couple of his tasty recipes with us.
Recipes
• St Asaph street kitchen nachos
• Pork and fennel meatballs

Mosaic by Simo
simos.co.nz
A mosaic is made by taking broken pieces of tile or china and using them to create something beautiful.
It's an apt name for a vibrant eatery in Christchurch. You walk into this suburban mall cafe to be taken aback, the food sings to you. Everything looks so bountiful, generous and fresh.
Owners Simo and Anthea took a huge hit in the earthquakes. They were running three outlets before the first September incident. They lost one then, another on Boxing Day and the third in the big February quake. After 10 years of hard work, it would be easy to feel smashed and broken.
Not these two. Simo took a stall at the Dean's Bush market. Then he found a run-down cafe and opened Mosaic. Last week they opened another outlet and put a food truck on the road. He is about to start up his cooking classes again.
The amazing spirit of these two exemplifies the kind of determination, belief and vision that will bring Christchurch back to life sooner rather than later.
Totally impressed by their wonderful food, I was so inspired by their story it made me proud to be a Christchurch boy.
Make some of this Moroccan food at home.
Recipes
• Carrot and orange salad
• Slow-roasted beetroot with sour cream and mango salsa