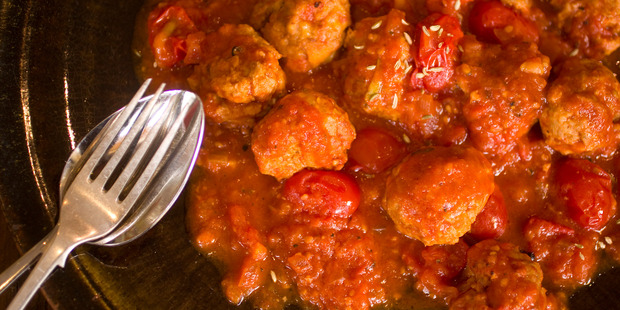 Ingredients
• 1.5 kg pork mince
• 2 eggs
• 150g breadcrumbs (2-3-day old white rustic style, blitzed)
• 150 ml lukewarm milk (to moisten)
• 20g fennel seeds, lightly toasted and pounded in a mortar
• 1 cup pecorino romano cheese, freshly grated
• 1 tsp chilli flakes
• Salt and pepper to taste

Tomato sauce
1. Soften some chopped red onion and garlic very gently in olive oil.
2. Add a heap of whole cherry tomatoes, or whatever tomatoes are on hand, chopped into evenly sized pieces.
3. Sprinkle in white sugar and salt.
4. Dab a little tomato paste over each tomato. Cook on stove top on very low heat, cover if necessary for a while.

Meatballs
1. Soften breadcrumbs in half the milk.
2. Put all other ingredients in a large bowl and then add the breadcrumbs and milk. Combine gently with hands. Add reserved milk if necessary. The mixture should be quite moist.
3. Shape into walnut-sized balls and bake on a greased tray in a 220C oven for 10 minutes until starting to brown.
4. Remove and poach in tomato sauce for another 10-20 minutes on a very low heat on the stovetop in a pot with the lid off. Take off the heat when the sauce has reached your desired consistency.
Add a few torn basil leaves. Serve with some good quality bread, either home-made or from a bakery.