Fake tans aren't all created equal, so step out with confidence if you need help maintaining that holiday look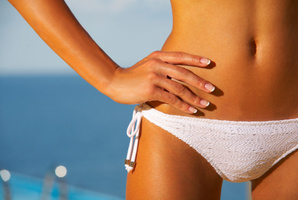 Salon at home
When Abbi Hollins came to town I knew I was in good hands. The Englishwoman, who now heads St Tropez's skin team in Australia, has sprayed a stack of celebrities. She has worked at the Oscars, on X-Factor, magazine shoots and at London Fashion Week. But she got her start in a neighbourhood tanning salon helping wean Brits off their love of sunbeds and on to their spray-tan addiction. Up north they like their tans darker, Geordie Shore-style, compared with a more restrained look in London.
Hollins reiterates the usual stuff about exfoliation before and moisturiser afterwards to help preserve a good tan, but she has interesting tips about how to create a sculpted body look by applying tan like a facial contouring product. Darker in the bits you want to recede and lighter in the areas of prominence. Seems a six-pack can be sprayed on by clever hands like hers and slimming trickery is often used in editorial shoots.
You can try this look at home. Her advice is to spray evenly all over your body one day, then a day later go back over the areas you want to darken, say down the side of the leg. The concave of the collarbone can be darkened, with a cosmetic highlighter applied where it protrudes.
She has reassuring advice for a spray tan simpleton like me who has always found rubbing in a gel or lotion easier. Shooting the spray tan into the palm of your hand and rubbing it on is okay.
St Tropez recommends you do this while wearing its application mitt and then lavish your skin with its various tan-extending products. The good news is that it has recently cut its prices in New Zealand considerably and though it is still at the premium end of the spectrum we're talking reductions of 40 per cent for some items. New distribution arrangements also mean the range is no longer in department stores, with a return of focus to the salon and spa market and some pharmacy stockists.
Three days into my customised Hollins tan, the colour is the most natural I've struck on my fair skin. St Tropez's patented Aromaguard ingredient, which minimises the smell of the dihydroxyacetone in spray tans does its job. I've since tried the top-selling home product, St Tropez Bronzing Mousse ($49.95) to good effect, but can't be bothered with the tan-extending clobber.
Good to go
Promoted as the one-hour spray tan, the new formula in use at Auckland's two Lucy & The Powder Room salons is ideal for busy people. It takes around 15 minutes to apply, then you are best advised to dry it off for a few minutes before dressing in something loose that won't rub up the results.
The hour refers to the minimum length of time you need to leave the tan on before showering if you want it to develop enough to stay on your skin. This compares with the usual minimum of 4-5 hours, with 8 hours or overnight sometimes recommended.
In the Takapuna Powder Room I was actually advised it would be best to wait a couple of hours before showering or my tan would be more like the tint from a day or two in the sun rather than a richer result. So I waited two hours before showering and for the next five days looked like I'd been away at the beach for a decent break. The colour was good, which salon manager Hannah said was due to the product having a green base tone that avoided that give-away orange look. She explained that the active tanning agent DHA was derived in this case from sugar cane, which was why the Powder Room had switched to this product in keeping with its natural philosophy. Rose and geranium essential oils mask the tan smell initially, although this becomes more evident a day or so later, but not overbearingly so.
The tan solution is sourced from Australia where it is called the Oz Tan. The Powder Room prefers Lucy's Tan or the lunch tan which sound more enticing. An application normally costs $65, with specials of $50. stephenmarr.co.nz