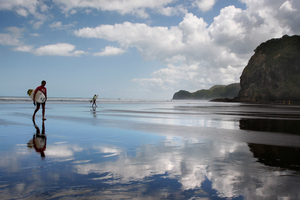 In NZL it's not uncommon to be a surfer, an avid sailor or swimmer, especially since our country is entirely water-locked. The many manifestations of being the last are fascinating and diverse.
An ocean swim, for instance, is okay insofar as one doesn't mind the beach. Not to be snidely cynical again, but there is a school of thought in New Zealand that renounces the phenomenon of the beach altogether, and I'm it.
Once one hits the water, it's a majestic feeling. But you have to put up with a great deal on the way. You have to endure the complete lack of shade, the oily, sweaty sunscreen feel of your skin, the leering scowling mobs of teenage terrors debauched by bourbon, the footballs, cricket balls, tennis balls, volley balls and rugby balls flying hour upon hour around your nervous head and, lest we forget, the clingy, niggly sand.
Sand is just hideous in its unceremonious stickiness. How people can consent to lay on it for hours baffles me. It stings. Once you're swimming in the sea, it's great, but I wouldn't know because I never go.
A wharf swim is a kick if you like your kicks. You can do all kinds of tricks and backflips. Wharf people are more accommodating as they take themselves less seriously than beach people. And you don't have to muck around laying out your towel and bother with eating a warm substandard sandwich at the wharf, as you do at a beach.
Furthermore, wharf culture is far more exuberant than beach culture as people are genuinely thrilled to be making a splash. You can jump once or 100 times and no one will judge you. Everyone judges you on a beach, as there's nothing whatever else to do. It's a sun-baked fashion show with corpse-like, sunglassed eyes locked firmly on you. In fact, beach culture is so full of blank-faced humourless hangovers and wetsuited twerps running about with kites, it's disgusting. Alas, someone once erroneously told everyone an ocean swim will cure a hangover and so everyone flocks to the beach.
A spa or a "hot swim", as my grandmother calls it, is too good to be true, it really is. I mean it's a bath outdoors with mates and cold drinks and kingly laziness. The only place to experience what Austin Powers would call "extreeeeme relaxation". There's privacy otherwise unobtainable during a hot swim. You can be yourself during a Jacuzzi, and you aren't going to be leered or sneered at, you're not going to feel salty at the skin, and you're not going to have to bother with sandwiches and second-rate strawberries. No, you'll be too busy getting cosy with a chilled sweet ginger beer.
A lake swim is entirely pleasing in that if you're a physical risk-taker you can jump out of trees into it. There is no greater love than to plunge out of a booming, pluming pohutukawa into a salt-free Rotorua-styled lake.
There's plenty of space to privately frolic and starfish if you can actually swim, unlike a beach where people are packed into the shore-break area for fear of largely non-existent sharks.
An outdoor pool swim is for kids and barbecues. Being a vegetarian uncle, this certainly isn't my domain. Take me to the river, put me in the water. A river swim is good if you can actually swim and don't mind the thrill of flipping off a riverbank into the rushing Whanganui water. It can get mighty cold, but only females, Kate Winslet and painters worry about water temperature, so there you go.