Auckland has no shortage of skateparks, but which are safest, which are friendly, and which have the best resources? Donna McIntyre and two keen scooter riders whittle down their top six.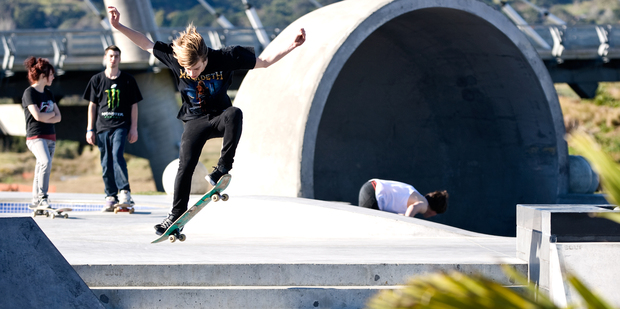 They're a friendly lot, these scooter riders. Dropping into Victoria Park one Sunday to ask directions to the scooter-dedicated store Dialled, riders gather round my son Jamie, asking where he bought his scooter, where he rides, what tricks he does. One teenager even offers to walk with us, saying he was planning to go to the shop anyway.
Scooters are now outnumbering skateboards and BMXs on the Auckland skatepark scene, with up to eight scooters for every two bikes and boards.
It takes less time to master a few tricks, says Kelvin Travers, scooter distributor with the Dept of Adventure, and riders range from the young through to 19-year-olds embracing it as an extreme sport.
Scooters roll rather than churn and grind, and riders even sport a different look - more Justin Bieber/One Direction than the grunge/gangsta look favoured by some boarders.
We ask the kids at Victoria Park, Kelvin's sponsored team riders and Mark Cunningham at Dialled to name their favourite parks, and we tried six, which is as much as we can manage in one day.
Along the journey, kids at the skateparks ask where we'd been and the general consensus is that we have nailed it with our selection. But there will be other parks waiting to be discovered ...
Some parks are new, older ones have been revamped. And we appreciate the design skills behind these parks, let alone the planning, cost and consents needed to get any new venues up and running.
And, the best thing? They are all free to use.
Anyway, it is time to ride. Park testers Jamie Dierick, 13, and Kit Sainsbury-Canham, 14, live on Waiheke Island where they enjoy the Tawaipareira Reserve skatepark, upgraded last year. It's a small park so Kit and Jamie are keen to see what the big city has to offer.

BROWNS BAY
Right by the beach, with Rangitoto Island across the water, this skatepark has the most beautiful setting. A BMX rider tells us the people in the apartments facing the park "complain about the park but the cops across the road are trying to keep it for us".
Today's riders are mainly on scooters but some have skateboards and BMXs. Jamie and Kit enjoy the park's big and little half-pipes and jump platforms, it feels safe with a playground and police station as neighbours, and they love being next to the beach. Cons are the surface is rough in patches, there's rubbish lying under the half pipe and they think it's on the small side.
Facilities: Toilets beside park. Cafes and supermarket handy. There's a water tap but its broken and the local kids say they "the council won't fix it no matter how hard we try". Free parking.
Rating: 5.5 out of 10

DEVONPORT
This park is bang in the middle of a paddock in Ngataringa Park with the harbour bridge and SkyTower in the distance. Nice. No complaining neighbours here. It's on Lake Rd, across from the golf course. Painted in a patchwork of pastels (covering graffiti), on our visit it's 100 per cent scooters but we are here in the morning and we're finding out that parents of younger riders tend to bring them to the parks early before the older riders arrive from 11am. Kit says this vert skatepark is huge. He and Jamie would feel okay coming here with friends but not alone as it feels isolated.
Facilities: Water fountain, no toilet. Park on Lake Rd and walk here. Wear shoes as there is often broken glass.
Rating: 7

FLAT BUSH
This new skatepark is amazing and there's not a hint of graffiti on its landscaped presence. Parochial locals say they think their park is better than Victoria Park "cos we've got 10 stairs for ollies and kick flips, Vic Park's only got 8".
There are bowls, quarter pipes, ramps, ledges ... and it's buzzing. The boys say it's a great advanced park so you have to be good to do tricks here, and the smooth new surface sometimes feels a little slippery.
Some skateboarders grumble, saying scooter riders "snake" behind them and make them jump off their boards. But overall, the vibe is courteous with older riders letting younger riders have their turn.
Facilities: Water tap, toilets, free parking.
Rating: 8

VICTORIA PARK
The holy grail of Auckland's skate parks, its popularity is also the one downside. But it is a sensational park, well designed, and it's fun watching the other kids do their tricks.
A bonus is being able to pop into Dialled, the scooter store on Beaumont St, where Kit and Jamie get their scooters dialled (tuned) and Jamie splashes out on a new part.
The boys vote Victoria Park as the park they like the most, but note the atmosphere isn't as friendly as some others. And, another thing, why do hardly any girls skate?
Facilities: Water tap, toilets, free parking (but it fills up fast). Scooter shop and supermarket handy.
Rating: 8.5

NIXON PARK
A small but well-formed new park sits alongside Bond St as you come up to Kingsland. There's a quarter bowl, ramps, rails, stairs and a hubba. With mainly scooters in action on our visit and only a few skateboarders, Nixon Park is a good alternative to head to when Victoria Park feels too busy. The local kids are friendly, too. "At Vic Park, people stare at you when you do tricks," says Kit.
Facilities: Water tap, no toilet. Free parking on road (note clearway times). Cafes nearby in Kingland.
Rating: 7

LINCOLN RD
An oldie but a goodie which has been updated and offers bowls, half pipe, rails, drop-ins, hubbas, boxes and stairs. Jamie says though the design is really good, some local kids advise him not to come here alone as some skateboarders take kids' scooters off them. Visiting later in the afternoon explains the different vibe at this park. Some BMX boys go into show-off mode (and, man, they have impressive tricks to show off) but we are left with the impression that although they are happy to talk to us, we are the intruders on their home ground, plus they reckon scooter kids "don't know how to ride".
Facilities: Water tap and toilets at neighbouring playground. Free parking.
Rating: 7

FACT BOX
* Browns Bay Skatepark, Beach Front Lane, Browns Bay
* Devonport Skatepark, Ngataringa Park, Lake Rd, Devonport
* Barry Curtis Skatepark, 42 Stancombe Rd, Flat Bush
* Victoria Park Skate Plaza, Victoria Bay, Freemans Bay
* Nixon Park Skatepark, Bond St, Kingsland
* Lincoln Rd Skatepark, Te Pai Park, Lincoln Rd, Henderson