As the days get shorter, we say a final farewell to some fair-weather friends and welcome in a raft of delicious newcomers.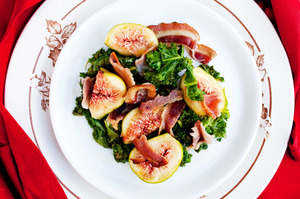 I love seeing the first autumn leaves begin to fall from the trees, knowing carpets of gold will be coming for the children to play in. It is also a signal that fresh autumn offerings begin to fill the shelves and summer favourites start to disappear, so these need to be savoured before they are completely gone.
Tomatoes have had a late season and are still full of flavour. They are delicious roasted and served with butter beans, toasted salty almonds and watercress. Combine creme fraiche with parsley and oregano then drizzle over the tomatoes with a little extra virgin olive oil combined with black pepper and lemon.
Figs are an absolute favourite at this time of year - they are beautiful to look at and when sliced in half reveal a spectacular moist flesh crammed with tiny seeds. Depending on the variety, the centre can range from the palest pink to the deepest ruby. Eat them as is or quickly grilled and paired with honey, orange, bacon, hazelnuts; today I have also included kale.
Kale is often scoffed at by those with a farming background as "cow fodder" but when sliced and gently wilted with garlic and olive oil, it becomes so full of flavour I may never look at silverbeet again. Kale is full of goodness and contains iron. So grab a bunch and give it a go.
Mushrooms always remind me of autumn. Years ago our house backed on to a huge regional park where field mushrooms, in their truest sense, appeared at this time of the year. Neighbours would scurry off to fill their baskets and share with each other. The mushrooms need little cooking, just a gentle braise with herbs, cream and a dash of wine. Seared beef complements their richness, and slices of fried beetroot, some greens and a chilli dressing finish the salad off. The cooler months are looking fine to me.
Chef's tip
Cut the stems off figs before eating - you may notice a milky sap which can irritate skin. With the mushroom salad, any variety can be used, even a combination, though field mushrooms do have more of a "meaty" flavour which complements the beef.