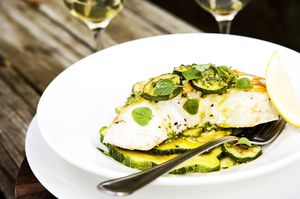 Serves 4
Parsley pesto
1 cup parsley
1 cup basil
1/2 cup flaked almonds
2 cloves garlic
Zest of one l small lemon
Salt
1/2 cup extra virgin olive oil, plus more to cook with
4 x 200g blue cod fillets
4 x 5cm slices of kamokamo
1 To make the pesto - put all the ingredients into a food processor then pulse until smooth. Taste for seasoning.
2 Heat a grill pan or barbecue then grill the fish with the slices of kamokamo for 3 minutes each side before turning over, season then repeat.
3 Serve the fish with the kamokamo, a spoonful of pesto and a wedge of lemon.