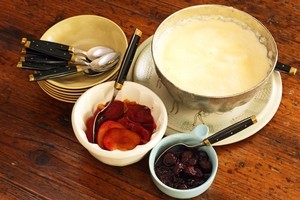 This is an old Dutch recipe. You can set it in a mould and turn it on to a serving platter. It is good with poached plums and even better with Rumtopf. (This recipe was given in the column on berries. If you missed the berry season you can still make a Rumtopf with stone fruit.)
1 litre milk
75g sugar
A piece of lemon peel
1 tsp vanilla essence
Pinch of salt
90g semolina
2 eggs, separated.
1 Heat the first 5 ingredients together to dissolve the sugar.
2 Stir in the semolina and boil, stirring all the time. It will become quite thick.
3 Remove from the heat and beat in the egg yolks.
4 Whip the egg whites till they have soft peaks, then fold into the cooled mixture.
5 Rinse the mould with cold water (if you want to turn the pudding out) and pour the above into the mould or your serving bowl.
Serve when completely cold.