Make the most of summer's glorious berries.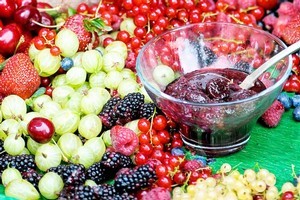 I'm very happy with my redcurrant bushes. I bought three plants in Christchurch several years ago and by planting cuttings have multiplied them to create a hedgerow. The bushes grow along the fence at the back of my vegetable garden , happy as, beneath the espaliered figs. Last year they produced a few currants for the first time, this year they have swung into full production.
I have tried growing gooseberries, remembering my grandfather's patch of smooth green ones, fat hairy red ones, and plump, sweet, striped gold, green and pink ones, but have had no success. I think Auckland is too humid for them. Having said that, I am happy to see green gooseberries now appearing in shops and we should buy them to encourage their commercial production.
Also now available are an array of other berries, which seem to all come in at once for one glorious moment of the year. Most are too fragile to be imported out of season, so this is your chance to live in the moment. You'll find strawberries, blackberries, loganberries, boysenberries, raspberries, blueberries, redcurrants, whitecurrants and some cherries left over from Christmas.
Their regal colours signify their highly valued status. If you hesitate you'll have to wait for another year to enjoy and preserve their delicious flavours.
Berry sauce
A sweet berry sauce is a lovely contrast to many flavours. Spoon it over scoops of ice cream, or paint your plates with it to garnish a dessert.
1 Put berries (single variety or a mix) in a small pot. Add the equivalent weight in castor sugar. Add half the volume in water and simmer until you have a sauce-like consistency.
2 Strain through a sieve and cool.
Rumtopf
Fresh is best with berries, but there is a great way to eat them in the middle of winter. The English call this Bachelor's Jam but its real origins are German or Danish. They call it rumtopf and make special pots to put it in. You don't need a special pot to make rumtopf though. A crock, a big glass jar or a ceramic storage pot will work. It needs to be kept in the dark and cool for the months before you serve it.
1 Start making rumtopf when the first berries appear, in New Zealand that's strawberries. For every kilo of fruit (or weight for weight) add a kilo of castor sugar and a litre of alcohol - white rum is traditional but brandy is nice.
2 As each berry comes onto the market, add an amount to the pot with an equal weight of sugar and keep topping up with alcohol so the fruits are covered.
3 Continue this process as the stone fruits arrive - apricots, peaches and plums.
4 Keep it all well sealed with several layers of clingfilm beneath the lid of your vessel and keep cool.
5 In the midst of winter reveal this treat and serve it in small bowls solo, with creme fraiche, or vanilla ice cream. A small serve is all that is needed of this rich treat.
* Grant Allen has been a professional cook for 30 years. He works as a caterer in Auckland. Visit Grant's Facebook page here.