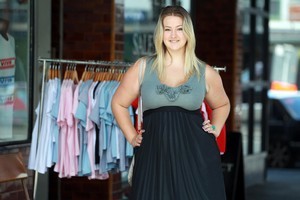 The Herald on Sunday went mystery shopping on Auckland's Ponsonby Rd, with fashionable 23-year-old Malaika Meder, a size 16.
Posing as a shopper wanting a dress for a party, Meder put retailers to the test. She found few options and received some frosty receptions from staff.
The issue was sparked by Herald on Sunday columnist Wendyl Nissen, who encountered similar problems in Ponsonby.
"Plenty of women who are size 14 or 16 exercise regularly, eat healthy and don't drink too much. It's just a shame we're missing out on dressing nicely," Nissen said.
Attitudes continued to surprise, after all a size-14 Whitney Thompson won the 2008 series of America's Next Top Model.
She told the Huffington Post last year that fed-up buyers needed to be more pro-active: "It's quite easy to just write a letter."
In Huffer's pop-up store, 12 - "medium" - was the largest size in stock. Meder asked the shop assistants what size the brand went up to and was flatly told: "14."
Then, as she browsed a rack just a couple of steps away, the staff whispered between themselves about the sizes.
Huffer designer Steve Dunstan said the brand had offered size 16 in the past but the demand did not justify the cost of production.
Nearby in Sass & Bide, only sizes six and eight were displayed on the shop floor, with 10s and 12s available on request.
Asked if there was anything to fit a size 16, the assistant scrunched up her face and pointed to a shapeless, mustard-coloured dress.
Miss Crabb and World were among a handful of boutiques that catered for a range of sizes.
World designer Denise L'Estrange-Corbet said it went between an XS and XL in all styles, and XXS and XXL in some. It was ridiculous many New Zealand retailers did not cater for even a size 14 (XL).
Miss Crabb designer Kristine Crabb said she made her clothes to fit "true" sizes, but some labels called a size 12 a 10 to flatter the customer into making the purchase.
"Some women fit the size 14 perfectly, but they don't want to buy it because it says '14'. In other stores they might be a 12."
Plus-size designer Caroline Marr, of The Carpenter's Daughter, said it was astonishing so many labels excluded a large portion of the market: "It's my niche and I'm all that."