Everyone needs to drink water. It's even more important if you exercise and are trying to get fit, finds Diana Clement.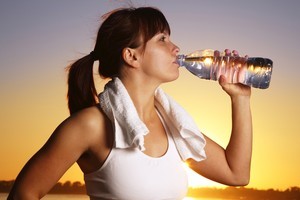 Not everyone needs to drink more water. Cultural changes that involve many people carrying bottled water with them and sipping constantly means they get sufficient or even sometimes too much water says Elaine Rush, professor of nutrition at AUT University.
Too little water and our internal thermostat starts going up, which can affect performance. Too much, and water washes out necessary electrolytes such as potassium, calcium and sodium, which we need for the optimal performance of our bodies.
Human "homeostasis" or state of balance is the optimum, Rush says. It is about keeping the body regulated with a steady amount of fluid in to match the fluid going out at that time. This homeostasis can be thrown into imbalance through bodily processes such as evaporation from the skin, exercise, and environmental factors such as heat and humidity.
If you don't drink sufficient water your performance is compromised. Your heart has to work faster, meaning your energy levels will decrease and you won't be able to metabolise fat as easily as you should.
Conversely, you'll get more out of your exercise session if you're properly hydrated. Providing you have sufficient liquid in your system the chemical ATP (adenosine triphosphate) is turned into ADP (adenosine diphosphate) during exercise and helps your muscles contract. That process is impaired if you're dehydrated. A good way to find out if you're drinking enough is to look at the colour of your urine after exercise. If it's dark, you're probably dehydrated.
If you're really worried about hydration and dehydration then weigh yourself before and after exercise. You shouldn't lose more than 2 per cent of body weight in fluid during any exercise session or your performance will decrease.
One of the big mistakes people make when exercising is only drinking when they are thirsty. Another is to assume you need sports drinks - which are sometimes packed with calories.
Unless you're exercising at really high intensity for an hour or more a day you probably don't need sports drinks to replace electrolytes such as sodium and potassium.
If you're exercising for more than 90 minutes the rules change; in that case consider drinking one cup of electrolyte drink every 15-30 minutes.
Parents have a responsibility to ensure their budding athletes drink enough when exercising. Younger athletes do not control the build-up of heat as well as adults so need to drink more regularly.
Children may not understand the need to keep hydrated, although they tend to be better than adults at responding to thirst, says Rush. Whenever children are exercising adults should offer them water during breaks.
No-one is the same. But there are some general guidelines for drinking and strenuous exercise:
Before: Drink about two to three cups of water a couple of hours before exercising and then about one cup around 15 minutes before.
During: Drink one cup of water if necessary every 10-15 minutes.
After: Have a larger drink after exercise. It's essential for recovery, ensuring that you can exercise tomorrow and the next day rather than feeling too tired to do anything.
Tips
* Sip water, don't gulp it
* Cool water is easier to drink than warm
* Don't forget that you dehydrate while swimming as well as on land
* Preferably drink before you feel thirsty. Listen to your body's signals and drink as soon as possible if you are thirsty
* Drink when you feel hungry. It's easy to mistake thirst for hunger