The Molten Cookbook by Michael Van de Elzen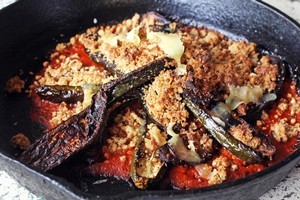 The recipes in this book are for when you have time to play in the kitchen. There are no quick fixes. It is made totally beautiful by Babiche Martens' inspired photography, giving the book a dark moody feel. This is night-time food.
This is my take on a classic crumble, which he turned on its head by using vegetables and eclectic ingredients. This could be a side dish or a vegetarian main.
Charred courgettes with spiced tomatoes and prune and walnut crumble
Spiced tomatoes
1. Preheat the oven to medium.
2. Slice 6 large tomatoes in half, place in a baking dish, add chopped rosemary (2 sprigs) 2 tbsp of chopped thyme and 4 smashed garlic cloves, and season with salt and pepper.
3. Roast for 30 minutes. Discard the rosemary and blitz the tomatoes in your blender with 2 tbsp olive oil, 1 tbsp raw sugar and a pinch of chilli powder.
The crumble
1. Preheat the oven to 200C.
2. Blitz 70g of plain and 70g of wholemeal flour with 110g of butter to blend, add 35g of brown sugar to combine.
3. Press this into a baking dish, 1cm thick, and cook until golden, tossing every 5 minutes.
4. Add 50g of pitted prunes and 50g of walnuts, both roughly chopped. Cook another 5 minutes.
The courgettes
1. Slice 10 courgettes lengthwise.
2. Toss in 2 tbsp olive oil, salt and pepper. Heat barbecue or a ribbed cast-iron pan and cook the slices until coloured.
To assemble
1. Place the spiced tomatoes in a baking dish.
2. Stack the courgettes randomly.
3. Sprinkle generously with the crumble.
4. Scatter with crumbled cheese. Van de Elzen recommends Pecorino but feta, parmesan or even tasty cheese would work. Bake for 20-30 minutes in a medium oven or until courgettes are soft. Tasty.