Viva photographer Babiche Martens shares her journey to create a cookbook with leading chef Michael Van de Elzen.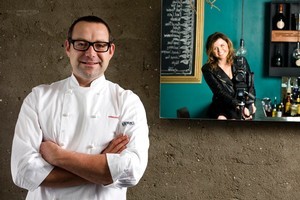 As the photographer for Viva, each week I get to visit some of our city's most amazing restaurants and meet some very talented people along the way. Shooting food is one of my main passions; taking a chef's creation and translating it into a picture that makes the reader drool is my challenge. And not always an easy task.
I had been vocalising my desire to collaborate on a cookbook to whoever would listen for a very long time, and it was on a Viva assignment to Michael Van de Elzen's Molten restaurant in Mt Eden that I casually mentioned my dream again. It seemed the timing was just right. "That's exactly what I want to do," enthused Michael, and the wheels were set in motion.
"A chef's timeline," explains Michael, "is: go to college, learn the basics, start work as an apprentice or kitchen hand, work hard. Move to a bigger kitchen - maybe overseas - gain more experience, work even harder. Rise up the ranks. If you're lucky, one day open your own restaurant with a supportive wife. Work and worry. Work and worry. Become not only a chef, but a leader, mentor, parent - to my staff.
Learn about electrics, plumbing, building, accountancy. Prove your worth to every customer and reviewer who comes through the door time after time after time.
"And then, document your experiences in a cookbook!"
Michael, of course, can also throw "front a television programme" into his timeline.
But that was to come later.
The first step in our collaboration was to get started. So, three weeks after our first cry of "let's do it" I found myself one October morning at the back door of the Molten establishment. Both Mike and I were nervous. How was this going to evolve? But as soon as I shot that first dish - one of Mike's most popular dishes - the crispy skin squid - I relaxed. In fact, that first shot is one of my favourite images in the book. That first day we shot three different dishes over six hours. We had a long road ahead of us. We would work only on Sundays as I balanced a full time job and Mike ran the restaurant.
"My greatest pleasure," says Michael, "is looking through my kitchen window out to a full restaurant where people are laughing, engaging and enjoying the Molten experience. That is my reward, along with the wonderfully talented people I have met along the way. The Molten Cookbook is a collection of my favourite and most popular dishes that have appeared on the Molten menu, and for me they reflect those experiences and my journey.
"Of course, when we started out, little did we know at the time how much commitment would be needed and how time-consuming it would be; the need to juggle the rest of our lives including much needed rest and time out which so often had to be sacrificed. But we both shared a passion for quality and good food, along with a shared determination in both of our natures to get on and get the job done."
As the photographer it was the evolution of the images that drove me. During the week leading up to the Sunday shoot, Mike would email me snapshots of the dishes he wanted photographed. These were a challenge to decipher. He would snap them, usually during a busy service, under glarey tungsten light and more often than not with his phone as the camera.
I would print his pictures out and examine them very closely and make notes describing the dish to help me remember as the pile of images slowly grew.
And then the fun part of the job - shopping for props. I was keen to style each photograph individually and would visit the wonderful people at Republic Home and the Studio of Tableware who tirelessly lent me the beautiful objects I desired.
I was like a kid in a candy store. I didn't limit myself to simple plates, each recipe was photographed in different vessels to add interest through colour, composition and texture. Armed with bags and boxes I was then off to my mother's house. Luckily she is a textile artist and a self-confessed hoarder and I could pick and pillage through her endless collection of textiles from all over the world to complement my visions. I would do this on Saturdays to ensure I was prepared for shoot day on Sunday.
From start to finish, the book took us two years. Two beautiful summers rolled tantalisingly past the windows of Molten restaurant as Mike and I worked away passionately in the dark interior.
There's a lot that can happen in two years - loves lost and found, personal highs and lows, births, deaths, and my incessant desire to travel, which took me off the radar for months at a time.
For Mike, life changed a lot. He landed the role as travelling presenter and chef on the television show Food Truck. As a result, his already busy restaurant became even busier, and trips to the supermarket a lot more interesting as he was spotted by fans. The greatest highlight of course, was when beautiful baby girl Hazel joined his family.
In that time our styling and approach to the cookbook definitely matured. We were able to revisit and refine dishes where we felt it was needed.
As we worked we would often say to each other "I guess we better see about finding a publisher for this great book of ours." Then we'd carry on working.
The book was actually 75 per cent complete when we finally approached Random House. Naive, completely confident in our work or just mad workaholics, we had never doubted that all our time and energy was being put into something that was worth publishing.
In December 2010 we met the people at Random who were astonished and impressed with our volume of work. So much so they agreed to publish.
It's been an amazing journey and as I turn each page of The Molten Cookbook I am filled with a sense of true achievement. Mike and I both have plans for more cookbooks and ways to work together. In the meantime, for me there are the pages of Viva to bring alive and more plans to travel. Mike is dedicated to training and nurturing the next generation of budding chefs, creating more TV shows and, potentially, more little Van de Elzens.
We both hope you enjoy our creation, make Mike's delicious recipes, and share the food and laughter with friends. That would be the ultimate finish to our journey.
* The Molten Cookbook ($65: Random House) is on sale now.
See vandeelzen.com or mikecooks.co.nz to order direct.
Meet Michael Van de Elzen next week at Taste of New Zealand festival, Wed 19- Sat 22 October, at Victoria Park in Auckland. Michael will be at the Chefs Kitchen at 1.45pm on the Thursday and at the Chefs Table at 3.15pm on Saturday. Tickets start at $25.