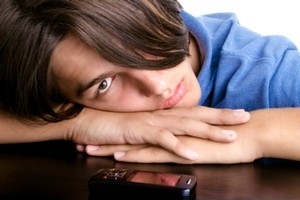 After a first date on a Saturday night, if it gets past 11.48am on Monday without a text or call then there's not much chance of a second outing, a survey has found.
Modern communications mean sticking to the so-called three-day rule - the amount of time to wait after a date before getting in touch without appearing desperate - is likely to leave you on the shelf.
The LoveGeist survey, commissioned by the company behind dating site Match.com, found the average wait is now half this time - just 1.52 days - and the most likely moment is 11.48am on Monday.
Kate Taylor, Match.com's relationship expert, said: 'The three-day rule might have worked when all we had were landlines, but technology has revolutionised how we date.
"When everybody takes their mobile phone everywhere, waiting three days to get in touch just makes you look snooty or, worse, like you have run out of credit.'
And when it comes to who does the asking, traditional gender roles in dating still hold true, with 22 per cent of women waiting to be contacted first compared to just 5 per cent of men.
- DAILY MAIL