It's a method of cooking favoured by some Asian countries and is a wonderful way to keep healthy while enjoying fabulous flavour.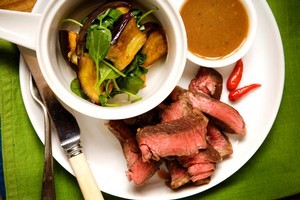 As the weather warms up we tend to think about lighter flavours and how to cook healthier food and more quickly. For me, steaming has always carried the memory of bland "diet food" from my teenage years - devoid of colour and taste - but there is another world out there to discover.
Many different types of foods can be steamed including beef, fish and chicken. Dumplings and dim sum are delicious and can include all sorts of tasty ingredients, while sweet pots of steamed custard, served with a little sliced tropical fruit, have a gentle and soft texture with a lovely flavour.
The key to successful steaming is to involve plenty of flavour before the food goes into the steamer. If you don't season beforehand the food will be lacklustre. Whisking up a tasty sauce to accompany each dish will also enhance the experience. Offering rice or noodles or just a generous platter of greens with bowls of fresh coriander, roasted peanuts, toasted sesame, mint leaves, sprouts and Thai basil will keep everyone content.
Today I have chosen to use ingredients I haven't steamed with before - fish wrapped in banana leaves is a new experience.
The leaves impart a unique flavour and add extra moisture and interest to the meal. They are inexpensive and can be found - usually frozen - at Asian supermarkets. They also look good lining platters or cut into circles to put under plates instead of placemats.
Steaming beef after marinating it in tamarind sauce has a fantastic result - the meat is rare, juicy and very tasty. I have paired it with a fried eggplant and spinach salad for added flavour and texture.
The third recipe is for steamed chicken thighs with the flavours of galangal and lemongrass. If galangal is difficult to find, fresh ginger can be substituted, but it does have a different flavour. The chicken is exceptionally soft and moist - such is the reason for steaming - and adding fresh coriander and toasted black and white sesame seeds to the dish provides a delicious, interesting, healthy and quick meal.
Chef's tip
Line the steamers with rounds of baking paper to prevent any food from sticking. Keep steamers tightly closed for the duration of cooking time. Candlenuts can be found in Asian food stores or substitute with macadamias.