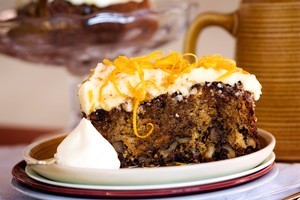 Serves 12
Makes 1 x 24 cm cake
4 eggs
2 cups caster sugar
1 1/4 cups rice bran oil
3 Tbs crushed pineapple
1 cup walnuts or pecans, roughly chopped
2 cups plain flour
2 tsp baking powder
11/2 tsp baking soda
2 tsp cinnamon
1 tsp salt
2 cups grated carrot
1/2 cup sultanas
Icing
250g cream cheese, softened
100g butter, softened
3 cups icing sugar, sifted
Juice and finely zested rind of two lemons
1. Preheat oven to 180C. Grease or line the cake tin.
2. Beat the eggs and sugar until well combined and creamy. Slowly add the oil and continue beating. Stir in the pineapple and nuts.
3. Sift the flour, baking powder, baking soda, cinnamon, and salt. Fold into the mixture.
4. Fold in the carrot and the sultanas. Pour into the cake tin and bake for approximately 1 hour. Test with a skewer - if the skewer is sticky, bake for a further 5-10 minutes. Leave to rest for 15 minutes before turning out to let cool while making the icing.
5. To make the icing, beat all the ingredients together until smooth, then spread on to the cake.
Chef's tip
Lightly roast the walnuts and pecans together before adding to the carrot cake. This will add a lovely toasty flavour. Soften the cream cheese or use the spreadable alternative to give a magnificent creamy icing.