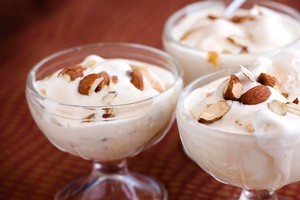 Serves 4
Dulce de leche
4 cups full fat milk
1 1/2 cups caster sugar
1 vanilla bean
1/2 tsp baking soda
Ice cream
6 egg yolks
1/2 cup caster sugar
2 cups full fat milk
2 tsp vanilla extract
1 cup cream
1/2 cup roasted and salted almonds
1 To make the dulce de leche; pour the milk and sugar into a large saucepan. Over a medium heat, stir occasionally until the sugar has dissolved.
2 Split the vanilla bean and scrape the seeds into the saucepan. Add the bean as well.
3 Add the soda and reduce the heat to a bare simmer. Cook for approximately 2 1/2 hours or until a dark caramel colour. Remove the vanilla bean. Serve hot over the icecream or cool and refrigerate for up to 1 month.
4 To make the icecream; whisk the eggs and sugar together until pale. Combine the milk and vanilla in a saucepan and bring to boiling point. Pour on the eggs while whisking.
5 Return the mixture to a clean saucepan and stir, making sure it doesn't boil, until the mixture coats the back of a wooden spoon. Strain and let cool.
6 Stir in the cream then either churn in an icecream machine or pour into a shallow dish and freeze until just firm. Blend in a food processor then return to the freezer. Repeat this process twice.
7 Serve the icecream with the dulce de leche and roughly chopped salted almonds.