Wish comes true for a part-Maori Australian model.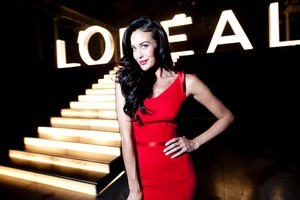 Waiting at Warner Bros is a Wonder Woman costume with Megan Gale's name on it. A few years ago she slipped into Wellington "under shrouds of secrecy" to be fitted out as a super heroine at Weta Digital's studios.
Although the George Miller-directed movie has been shelved - a victim of the Hollywood writers' strike a few years back - there's no doubting that the costume would still fit Gale like a glove. With her impossibly long limbs, curves in all the right places and tumbling black curls, she's the very picture of an Amazonian cartoon character made flesh - but face-to-face it's the realness of Gale that is most striking. Just named as one of the L'Oreal Paris "dream team" of spokesmodels, she joins an elite club of famous faces, but the woman whose modelling career was slow to get started before she became a household name, first in Italy then in her native Australia, knows she's lucky to have scored the "holy grail" of modelling, a contract with a giant cosmetics company.
The 36-year-old finishes my sentence as I try to ask tactfully "Did you think you might have missed the boat?"
"Yeah," she laughs, "completely. It was great, too, in a sense that it has come at this point, I was so much more appreciative because it was something unexpected that I thought might not happen."
So was getting off the plane in Auckland as a 19-year-old modelling hopeful for the Corbans fashion show, to be greeted by her taxi driver who took one look at her and said: "Welcome home, how long have you been away?"
In Australia, Gale is often taken as part-Italian with her olive complexion and striking features. But Megan's mother May, a tiny, trim part-Maori woman with beautiful bone structure, has contributed that. Her height, 5ft 11inches, comes from her English father's side.
I spied Mrs Gale standing quietly in the background at the glossy Sydney launch where Megan's L'Oreal role was announced last week, prompting a round of celebrity page photographs and breakfast TV show interviews. She told me she hailed from Northland, grew up in Auckland and moved to Australia in 1967, settling in Perth, where she had two sons before her daughter came along. "Meg," she says, "was blown away" when the New Zealand taxi driver recognised her ethnic origins so easily.
The next day Gale tells me she is proud of her Maori ancestry and is keen to visit again, but it seems the links back here are not strong.
"It's great to be a bit of a diverse mix."
Italy is her second home, and she clearly loves the country where she was adopted as one of their own having struggled to break into the Sydney modelling scene during the heroin chic phase. Gale's healthy good looks won her the role as the face of Omnitel (now Vodafone) and she was regularly mobbed in the streets by enthusiastic Italians. She lived the celebrity life in Italy for seven years before returning to Australia where she has moved into television presenting, with segments for the Getaway travel show and as host of their version of Project Runway, on which she is also executive producer.
Gale is is now as recognisable in Australia as in Italy, thanks in large part to a 10-year association fronting for department store David Jones. She splits her time between Sydney and Melbourne, where she was in a long-term relationship with a radio announcer, but the tabloids now report her stepping out with a much younger Rules footballer, a subject she keeps off limits in interviews, but which only adds to the column inches about her over the Ditch.
New Zealanders will soon be getting to see more of Gale too, with her print campaign for L'Oreal's Elvive hair range launch this month, television commercials coming in October, and a Revitalift skincare campaign to follow. At this stage her contract - "we don't talk about terms and fees" - is a three-year deal for Australasia, "but there's always a view to a long-term partnership".
L'Oreal Paris currently has 16 international spokesmodels, including Jane Fonda, Eva Longoria, Claudia Schiffer, Beyonce, Aishwarya Rai and Gwen Stefani, plus a handful like Gale and British pop celebrity Cheryl Cole who are country or region-specific.
Gale is the first from this part of the world and L'Oreal's regional managing director, Johan Berg, tells me there is "big interest internationally" in her. Mark O'Keefe, the general manager who championed the initial deal, says with Gale already having a profile in Europe and her mix of glamour and down-to-earth appeal, she has what it takes to go global.
Asked at the launch which "dream team" member she most admires, Gale mentions Andie McDowell, whom she met at a Melbourne Fashion Festival, and who just happens at 25 years and counting to be the longest serving of all the current spokesmodels.
Gale, too, has a view to career longevity, having launched her own swimwear range, Isola, and dabbled in acting. While she would dearly love Wonder Woman to be back on the agenda, she realises even if the film project is reactivated she may not be re-cast, so she prefers to keep busy rather than pursue the Hollywood dream.
"I wouldn't give up everything else I'm doing, just to move to LA in the hopes of something happening."
The "unexpected" L'Oreal contract allows her to keep up a range of interests. "I always have the choice not to do other stuff, but I want to do other stuff." Winning it, she says, was huge. "You have a wishlist of goals you want to achieve when you start modelling [Italian Vogue, Sports Illustrated] and one of them for me was getting a cosmetic contract.
"And I was resigned to that not happening; you're never going to get everything as much as you might wish it would happen, I just presumed that was one of those things that wouldn't happen. That's why it was such a shock for me when they gave me the proposal."
After months and months of discussion and negotiation the deal was done and Gale recently shot her first campaign in Los Angeles: two days of 16-17 hours each, working on the television commercial and then another long day on stills. She was pleased to have some creative input, suggesting a boxing workout scene, picking up on one of her exercise interests, which has also included pole dancing, though the current favourite is yoga.
Asked about her attitudes to being glamorised and how this matches reality, she says: "I do feel worried, when people see you in person, about perception. The reality versus the image that is out there."
As to the retouching of images - for which L'Oreal was recently rapped in Britain - she says: "I personally don't like my photographs being over-retouched. I've actually said in the past 'can you pull the retouching back', because I don't want people to look at me in a picture and then meet me in real life and say that's not you. I want it to look as close to me as possible, so I don't mind seeing the odd line or a few pores because that's the way I am . "And the thing to remember is that there has been a little bit of controversy with Christy Turlington and Julia Roberts, but that's very different than what we do in Australia."
Ageing is not an issue that bothers her, she says, attributing this to the influence of her mother, now in her seventies. "I've never really heard her go 'argh, I'm getting older', it's never been fed to me."
"I'm 36 and that's not something I feel ashamed about, or worried about or concerned about at all.
She puts this down to having "led a pretty healthy lifestyle," no smoking, drinking in moderation, balanced diet and a love of sports. "I think if you live a healthy lifestyle it reflects in the way you look - and it's great to have some L'Oreal products on hand to help along the way", she says obliging the sponsor.
Asked about her attitude to appearance medicine, Gale says: "It's nothing I've dabbled in, it's nothing I've had any experience in, but with that said I don't judge anyone who feels that's the right choice for them.
"Whether I'll contemplate it in the future, I don't know because I don't have a crystal ball, but as far as my views today, I'm a little bit of a chicken with things, I get petrified at even cutting my hair, let alone needles in my face and injecting substances under my skin that I'm not really sure what they are."
She only had her first microdermabrasion recently and said she was needlessly worried sick beforehand. "I'm really, really cautious because my image is my job, so I'm not one to play around with that too much."
Gale says clients choose her for the way she is, so altering her appearance would just cease to give them a reason to keep working with her. It might also knock her acting hopes dead, if she were to paralyse part of her face. Instead, she recommends a good night's sleep, plenty of sunscreen, and hair masks. But cosmetics are an added extra on top of making sensible choices.
"I don't think women expect a complete transformation from cosmetic products, but they like to think they can buy something that is going to enhance their own existing natural beauty." Her aim is to look approachable, so women can connect with her professional image, even if it is glamorised.
"Everyone loves feeling good about themselves and cosmetics in general help women achieve that."