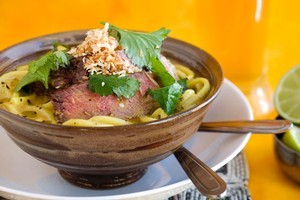 Serves 4
Coconut laksa sauce
1 Tbs peanut oil
2 red chillies
1 stem lemongrass, peeled and sliced finely
1 onion, peeled and finely diced
2 garlic cloves, peeled and finely diced
1 x 5cm piece of ginger, finely diced
1 Tbs tamarind paste
1 tsp ground tumeric
2 tsp fish sauce
2 tsp palm sugar
salt to taste
1 x 200g tin coconut cream
400g hokkien noodles
1Tbs vegetable oil
300 gm piece of scotch or sirloin
Salt
2 Tbs toasted coconut
Fresh coriander and mint to serve
1 To make the sauce; heat a pan then add the oil. Finely chop the chillies with the lemongrass and add.
2 Finely dice the onion with the garlic and ginger, add and cook over a gentle heat until soft and golden.
3 Add the tamarind, tumeric, fish sauce, palm sugar and salt to taste. Add the coconut cream and let simmer gently.
4 Put a large saucepan of salted water on to boil. When boiling, add the noodles and cook until tender then drain and mix with the laksa sauce.
5 Warm bowls in the oven while heating a frypan. Add the oil then the beef. Cook for 4 minutes per side then let rest for 5 minutes before slicing thinly.
6 Serve the noodles with the sliced beef. Spoon a generous amount of the laksa over and top with toasted coconut and plenty of fresh coriander and mint.