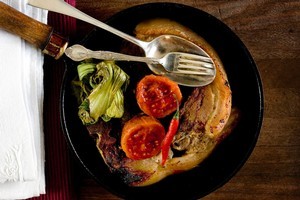 Serves 4
8 tamarillos
Boiling water
1 Tbs butter, plus 1 Tbs extra for cooking the pork
1/4 cup port
2 tsp brown sugar
1/4 cup vegetable or chicken stock
2 fresh red chillies
Salt and freshly ground black pepper
1 Tbs rice bran or olive oil
4 free range pork chops
Bok choy
1 Cut a cross on the end of each tamarillo with the point of a sharp paring knife. Put into a bowl and cover with boiling water.
2 After 20 minutes, remove the fruit and peel. Preheat oven to 180C. Slice the fruit and place in a baking dish. Dot with butter, pour over the port, sprinkle the sugar and add the stock.
3 Chop the chillies, removing the seeds if less heat is desired, and add. Season then bake for 15 minutes, turn and cook for a further 15.
4 Heat a frypan, add the oil and extra butter. Season the pork chops and cook for approximately 4 minutes on each side, turning once golden.
5 Serve the pork with the chilli tamarillos and steamed bok choy.