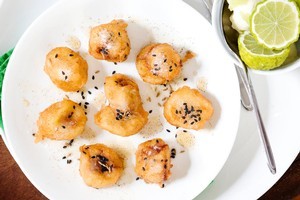 Serves 4
3 bananas
1 cup self raising flour
1/2 tsp salt
1 Tbs caster sugar
1 tsp toasted cumin seeds
2 tsp black sesame seeds
1 egg yolk
ginger beer to mix
canola oil
1 cup mascarpone
1 Tbs greek yoghurt
1/2 tsp vanilla extract
2 Tbs fresh lime juice
1 Slice the bananas into rounds.
2 Pour the flour into bowl, add the salt, sugar, cumin and sesame seeds.
3 Whisk in the egg yolk with enough ginger beer to make a smooth batter.
4 Heat a fry pan and cover with a film of canola oil 2cm deep. Dip the slices of banana into the batter and shallow fry, turning over once golden. Repeat in batches, placing on paper towels in between.
5 Mix together the mascarpone with the yoghurt, vanilla and lime. Serve with the hot bananas.