Songstress and mother Jackie Clark is doing her bit to help families hit by the Christchurch earthquake.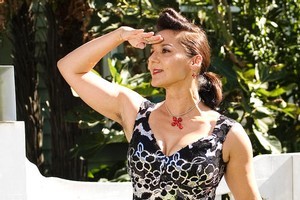 Performer Jackie Clarke leads a double life, as a "Grey Lynn mother of two" and chanteuse in sequins. She is one of several celebrity mums who have donated treasures to raise funds for Plunket and its work to help families affected by the Christchurch earthquake. The Plunket and Johnson's Baby Mother's Day Trade Me charity auction, which runs until May 5, includes beauty treatments, a personal styling session and designer baby clothing, donated from well-known mums like Pippa Wetzell, Sarah Ulmer, Sara Tetro, Trelise Cooper and Carol Hirschfeld. Clarke's special offering? A 50-minute solo performance - a wonderful, and thoughtful, Mother's Day gift. Bid now.
Who are your favourite designers?
Locally I love Zambesi because their clothes stand the test of time - some of my favourite pieces are Zambesi and they're 15 to 20 years old and now I can call them vintage with only the slightest twinkle in my eye.
I love theatre costume designer Elizabeth Whiting. She creates the illusion of opulence with bargain bin budgets which appeals to the state house kid in me.
She also made me my first corset.
Every woman should own at least one corset.
What was the last item of clothing you bought?
A leopard print 1950s style cotton sundress from Jetsetbohemian - fits me like a glove and makes me feel like a cross between Sophia Loren and Gidget and not at all like a cougar.
What do you want to buy next?
A skirt from Starfish.
Best fashion bargain?
A racer-back sequinned dress from the Trelise Cooper outlet store. For one thing it's a size 8 and was $350 reduced from $850. It looks amazing under stage lights.
Who does the best shoes?
My favourite heels ever are Dirk Bikkembergs - they're matte black with a high metal heel like an industrial girder and a chunky silver chain. But I'll be honest and admit that I live in jandals and Chuck Taylors.
What's the one thing everyone should have in their wardrobe?
A lavalava.
What fashion item would you be lost without?
Foundation garments - a girl's best friend is Nancy Ganz.
Your favourite shop, locally?
Jetsetbohemian is in my neighbourhood and it's a treasure trove for a magpie like me - fantastic beaded and sequined garments, great fabrics and chic accessories.
What's your beauty essential?
M.A.C. liquid eyeliner in Aqualine, mineralize powder, M.A.C. red lippie and beet pencil.
How do you define the word "fashionable", what does it mean to you?
Fashionable means being comfortable in your own skin, appreciating good design and interpreting it in an individual way.
Dress to impress whom?
I always dress to please myself and occasionally my son Ernie and his very good eye for clothes. A good outfit will immediately elicit a hug and a not-so-good one gets a frown and a "Mum what are you wearing?"
Who is your ultimate fashion plate?
Edith Head, classic Hollywood era designer. She costumed some of my favourite movies of all time - All About Eve, Vertigo, Rear Window, To Catch a Thief, Double Indemnity and Sunset Boulevard and was a singularly stylish woman in her own right.
Describe the best outfit you've ever worn.
My first glamour gown made by my friend Paul Jenden. It's based on a Cook Island tivaevae design and is blue with red and yellow sequined hibiscus appliqued all over. It's the first gown made for me that captured my peculiar sense of glamour.