Viva fashion writer Zoe Walker reports from iD Dunedin Fashion Week.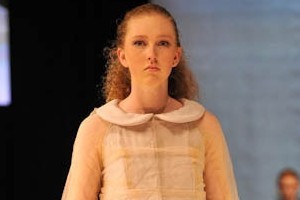 A strong, albeit much more commercial line up of winners triumphed at last night's iD International Emerging Designer Awards in Dunedin, with the panel of judges looking for young designers who are able to balance commercial reality with creativity and craft.
The main first place prize went to 21-year-old Katie Bolzonello of the Royal Melbourne Institute of Technology, who based her charming collection around ideas inspired by photographs of clouds by Sarah Moon. The interpretations translated into a dreamy palette and full silhouettes made of tulle and quilted chiffon.
Bolzonello also wins my award for one of the best dressed, coming out on the runway to collect her prize in a full floral skirt, Comme Play cardigan, ballet flats and pink glasses. Adorable.
Australia was the big winner, with the top three prize winners hailing from Melbourne, Queensland and Sydney - Shenaz Engineer of Queensland University of Technology won second place with her incredible digital prints and structured pieces (one tailored print dress did look eerily similar to a Spring 2010 Alexander McQueen, where Engineer has interned), while third place winner Sarah Mok of the University of Technology Sydney made an impact on the runway with her beautiful sculptural - almost 3D - dresses.
Other stand outs for me included Lucie Sutichunta's quirky printed separates, a well-styled all-black collection from Marielle Van de Ven, Greer Osborne and Lucy McIntosh's talent for tailored jackets and capes, and Sarah Petersen's beautiful floor-length dresses inspired by baptism gowns.
Amelia Boland's white baby doll dress and Alexandra Kenworthy's fun Carnaby Street-inspired yellow jacket had me scribbling 'I WANT' in my notes.
That wear-it-off-the-catwalk commercialism was reflected by way of a new prize this year, for the "most commercial collection", which went to Renuka Pana from AUT, with a very saleable collection of dip-dyed shirts, cord pants and jackets.
I'm certain that "most commercial" isn't meant to sound like a backhanded compliment - think of it as 'most likely to make some money'.