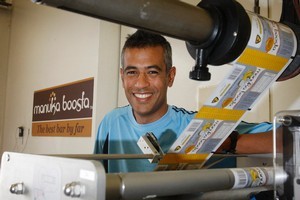 When he left his job in the food industry to start his own venture, Hayden Pohio was able to launch the business under the umbrella of his parents' Waikato honey company, Nature's Country Gold.
The trained food technologist, who has worked for Quaker Oats in Britain and a McDonalds supplier in New Zealand, then launched his own company, Boosta in April last year.
Boosta, which makes Manuka Boosta energy bars, is 50 per cent owned by Pohio's parents, Adrian and Lania.
The Manuka Boosta bar was inspired by a slice his mother has always made, but he's added manuka honey to the apricot, roasted cashew nut slice.
The food technologist got the idea to make his own range of energy bars when he did the Coast to Coast race in 2007.
"I felt that the bars that we ate during the race were all very dry.
"I wanted to make something that was actually nice, that people liked."
He drew on his industry experience to come up with a plan for the business and the product. The timing was right, he was 30 and ready for a new challenge.
"I felt that I had a lot of skills in various areas, I didn't like being held back in a job.
"I don't mind listening to people but I want to be listened to, too."
When he first started, he took the bars to farmers' markets, where his family's company Nature's Country Gold has a strong presence.
For the last year, Boosta has made 10,000 bars a month for the New Zealand market and for the past six months, 5000 bars a month for export markets. He shares a factory in Hamilton and can manufacture 4000 bars in one day with the help of a part-time team.
As well as producing three Manuka Boosta bars, Pohio will soon launch half bars, Boosta Bites, and is working on a sports honey gel product with a friend, always with his eye on the lucrative sports market.
Pohio promotes the products on the antioxidant benefits of manuka honey and the bars' homemade taste and also the slow release of energy.
"It's ideal for individual sports," says Pohio who has just co-sponsored the 100 mile (160km) Northburn Station 100 competition in central Otago on Saturday.
Ultra marathon runner Lisa Tamati endorses the products which sell individually in 300 NZ outlets, including 30 New World supermarkets, Fruit Worlds, gyms and Wishbone cafes.
The upmarket US food retailer, Whole Foods Market, is also selling the bars, thanks to networks Pohio has through Tekau Plus, a New Zealand-Aotearoa export support business programme for indigenous businesses. Pohio is also exporting to Japan, Hong Kong, China and just recently, to Australia.
"Exporting is where I always intended to go," he says.
The entrepreneur has had some interest from investors, but his advice has been to concentrate on pushing his sales.
When he does get to the position where he needs a container for America, then he'll need to put up his hand for money.
Pohio's goal is to be bought out in 10 to 15 years' time. At the moment the business has a $250,000 turnover.
"At the moment it's a case of building the brand. I am the face of the brand, I sell the products, I do the markets," he says.
"It's wonderful to be working for myself, I don't need a lot of motivation to get out of bed in the morning."