A London hairstylist at the top of his game is realistic about affordable hair care for women.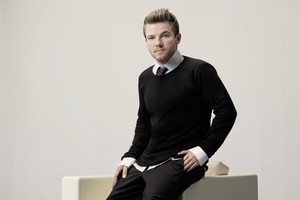 When top London stylist Thomas Taw arrived in Sydney an old friend asked him to colour her hair, so he headed to the supermarket. "The formulations are as good as you'd buy in a salon," he says.
Working with a budget brand has opened his eyes to the real world, where many women can't afford the sort of services his Soho salon offers. Taw insists they're not being short-changed - at either end of the market. Having worked with Sunsilk to develop a shampoo and conditioner especially for damaged hair, he says the technology behind it is top drawer.
"It's all about making it accessible to women all around the world."
Last week Taw was in Auckland on a quick promotional visit for the brand but it's not often that industry types are so candid, given they make a fair chunk of salon profit from selling pricey product and services.
Taw was impressed by the supermarket colouring kit he had to fall back on for his friend, but said the instructions took a couple of reads to follow.
"Hairdressers hate it because it takes revenue out of our tills."
Where he stands by salons is in their ability to dispense advice, match the client with the right products and sort out the mistakes, especially with colouring over regrowth.
"Application [at home] can be a problem and if hair is porous, you can get mismatched tone on reapplication." Conditioner is the one product he reckons most people need more of. Not in quantity - apply sparingly to the dry ends, not to roots - but to keep hair in optimum condition. His hair range, one of six Sunsilk Co-Creations with top international hairdressers, includes oils to help reconstruct the hair surface, especially if it has taken a hammering from heat tools and colouring.
Of the Oscars, which he commentated on in Sydney, Taw said he wasn't overly impressed by the mostly under-done, safe looks - loose updos, with the odd ironed straight style (yes, we mean you Gywneth Paltrow and Sandra Bullock).
"Reese Witherspoon looked like Sharon Stone in Casino."
Taw believes the celebrity influence has peaked, with global media meaning nothing stays special for long, though he says the ballerina look of Black Swan is having an influence.
He rates Cate Blanchett for always looking impeccable and Lady Gaga for being "a bit bonkers", but says he gets his own inspiration from the street and trends filter upwards from there, being curated on the runways and in editorial fashion shoots before being adopted by celebrities and going mass market.
Right now he's over the popular balayage look and into block colour in shades such as burgundy and dark brown. "There's always a backlash against what's dominant."
"Short hair is going away from elfin and urchin to more sold shapes, more solid colours. There's still movement with length, but it is has structure inside softer wave." Colours like burgundy and dark brown will be strong for winter.
His immediate future includes working on a Balenciaga campaign, a music clip for The Cure and Underworld in Brazil complete with hair pieces and back projections, and to work with more of his music and fashion world clients, such as model Agyness Deyn.
His advice is to use products aimed at the primary concern of your hair, be it for more moisture, more volume or curl control. Colour shampoo is good on freshly coloured hair, but he says it is best to aim to fix the main problem. "Don't go for things that promise to do more than one thing, they won't do either well."
Women - whatever they spend - want the same thing: "Hair that is healthy, shiny and manageable."
"If you're having a bad hair day you feel less confident. If your hair looks good you feel good."
My little pony
Nicole Kidman's appearance seems to be getting more girlish with every passing year. Her lineless look was topped by a pony tail for the Academy Awards last week. The actress needed simple makeup and hair to complement her Fred Leighton 150 carat 19th century necklace and white Dior couture gown. She choose celebrity stylist David Babaii, whose Hollywood client list reads like an Oscars nomination list.
Babaii, who has just launched his range of products into the New Zealand market, says the ponytail is making a comeback. He created Nicole's look by spraying his David Babaii for WildAid Bohemian Beach Spray ($32.95) into her hair and curling it to create movement. After brushing out the curl to create a wave, he pulled her hair back into a ponytail in the centre of her head. The look was finished off with a small amount of Hair Polish ($31.95) to add shine while locking in moisture and closing the hair cuticles.
The range is not tested on animals and is free of sulphates, parabens, petrochemicals and animal products. It uses a mix of exotic ingredients including volumising volcanic ash from the Vanuatu islands of the South Pacific. (For stockists details see db4wildaid.com.au)