Get your day off to a relaxed start with a delicious brunch worth lingering over.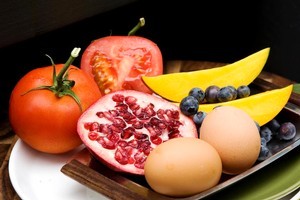 This is an ideal time to make the most of summer entertaining. Whether you have a morning off mid-week or are able to arrange a get together in the weekend, finding a spot to serve brunch outdoors makes for a pleasant get-together.
The recipes today are all rather healthy which is to be expected at this time of year. First we have crunchy home-made muesli with puréed fresh mangoes and yoghurt - okay a bit of oil is needed to create the granola but the oats, LSA and honey will sustain you well into the afternoon. Mangoes are cheap and cheerful right now so we should be taking advantage of their gorgeous flavour.
LSA is a mix of ground linseed, sunflower and almonds. It is commonly available at health food stores, or you can blend the ingredients together yourself until a coarse powder is achieved - then pop into a sealed container. It is excellent sprinkled on your cereal with fruit and yoghurt or over avocado and tomato on toast. Scrambling free-range eggs with an extra dose of protein via a spoonful of tofu is delicious, especially when adding whatever herbs you may have growing in the garden or a pot on the patio - basil, chervil or parsley are all very good with eggs, without overwhelming the flavour.
If this all sounds a bit too much first thing in the morning- you could reject the first two recipes in favour of a smoothie, which packs a hugely nutritious punch. But it is also a fine drink to offer in place of the standard OJ while your guests are enjoying the granola and eggs.
Chef's tip
Make the hollandaise just before you are ready to serve. It will taste best warm plus you can avoid the sauce having to sit - which can risk it splitting.