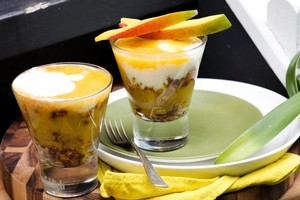 Serves 4
Granola
2 cups rolled oats
1/2 cup wheatgerm
1/4 cup LSA mix
1/2 cup shredded coconut
1/2 cup honey
1/2 cup rice bran oil
50g apricots
50g raisins
Mango purée
2 fresh mangoes
1/2 cup apple juice
Yoghurt
1 Preheat oven to 160C. Place the oats, wheatgerm, LSA and coconut into a bowl. Add the honey and oil. Toss together until well mixed.
2 Spread out on to a lined baking tray. Bake for 1 hour, checking regularly and turning over to prevent burning. Let cool before stirring through the sliced apricots and the raisins.
3 Peel the mangoes. Cut the flesh from the stones and puree with enough apple juice to make a smooth puree.
4 Layer the granola, mango and yoghurt into glasses.