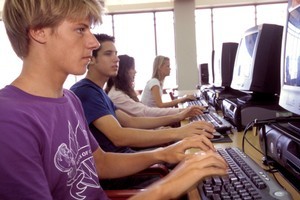 It's not the most heart-warming news on St Valentine's Day, but when it comes to internet dating men are much more likely than women to lie about ... well, everything except their weight.
The survey of 1060 online daters shows men are nine times more likely than women to lie about their age and seven times more likely to lie about their full birthday or email address.
The survey, conducted by internet security company Norton, also showed that once men met potential mates in real life, they were three times more likely to lie about relationship status, their age and their real last name.
Participants were asked if they lied about 14 categories relevant to their online profile. The categories were: age, email address, finances, full birthday, height, if they had children, their occupation, phone number, place of employment, real first name, real last name, relationship status, where they lived and how much they weighed.
Men were more likely to lie in 13 of the 14 categories.
The only category women were more likely to lie about was their weight, with 11 per cent of women lying compared to 10 per cent of men.
Across the categories excluding weight, the percentage of women who lied ranged between 2 and 6 per cent, whereas the percentage of men who lied varied between 7 and 19 per cent.
The reasons participants gave for lying on internet dating sites were insecurity and fears of rejection.
But 25 per cent of those surveyed said they lied because they wanted to match the qualities the other person was looking for.
Women said they lied because of feelings of insecurity, while men said they lied because of fears of rejection.
Women were far from innocent, though. They are more likely to give out a fake phone number in real life than on an internet dating site.
A Norton spokeswoman said because of their lies, men were less vulnerable to cyber crime because the false information made it harder for a cyber criminal to access their real name or birthday - essential elements in identify theft.
Advice to online daters is to give out only city details - not a street address - and an initial instead of a surname.
Jeremy Robertson, a researcher at Victoria University's Roy McKenzie Centre for the study of families, said he was not aware of research into the online behavioural differences between men and women.
But in the real world, there was no real difference between men and women.
"Most of the research indicates that there's not a big difference between men and women ... the variation within a sex is a lot more great than any variation between them. It's the same with ethnicity and things like that. Quite often there's a lot of variation in women - some lie a lot, some don't lie at all, and the same with men.
"But actually ... all of the research indicates there isn't a great deal of difference between men and women on psychological variables."

Men are
9 times more likely to lie about their age than women
7 times more likely to lie about their full birthday and email addresses than women
3 times more likely than women to lie about their first name