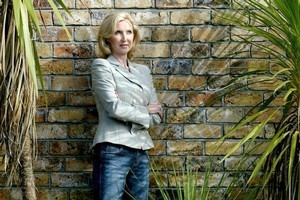 Every Valentine's Day Julia Hartley Moore sits back and waits for the phone to ring.
It's not a romantic gesture she's waiting for, it's dollars. The private investigator knows that February 14 flushes out love-cheats like werewolves at full moon.
Sometimes it is the paperwork that catches them out - jewellery, lingerie or flowers listed on the credit card statement. "The wife will say, 'Hello, hello, I didn't get that'," says Hartley Moore.
Sometimes it's subtle behavioural changes that set alarm bells ringing - a husband closely guarding his cellphone and sloping off outside to have a muttered conversation or rushing back to the office for an "unexpected work meeting".
Last year, one of Hartley Moore's clients noticed her husband checking the clothes in his wardrobe the night before
Valentine's Day, making sure he would be looking his best the next morning.
Hartley Moore was assigned the case and sure enough, the well-dressed gentleman was philandering.
Intuition is almost always right, says Hartley Moore.
In her 16 years as a private investigator she has had only one case where the accused was innocent. A husband's suspicions were raised when he found sexy lingerie in his wife's bottom drawer. It turned out she was making the lacy intimates for sale.
Despite discovering infidelity in their relationships, many of Hartley Moore's clients choose to stay in their crowded marriages. They tell her they can't afford to do otherwise. In a way, they're right.
It does make better economic sense to be in a relationship. Spouses have the advantage of household economies of scale, reducing their housing and energy costs and sharing common spaces and furnishing, lowering transportation costs by sharing cars and economising on food costs by buying in bulk and by cooking more meals at home.
As if that's not benefit enough, couples have more leisurely lives compared to their single counterparts.
A 2009 US study found married women gain about 33 or 34 minutes of leisure time each weekday, compared with single women.
Being in a couple saves time on household tasks. It takes roughly the same amount of time to cook a meal for two
people as it does for one, freeing the time of the spouse not doing the cooking.
Marriage is also just what the doctor ordered. Married people live longer, married men have better physical health and married women have better mental well-being, according to a study by Dr John Callacher and David Callacher of Cardiff University's School of Medicine published in the Valentine edition of BMJ Student.
What's more, you are more likely to grow your wealth in a relationship. Liz Koh, who runs her own financial planning business Moneymax, says as well as saving on household bills, there is an added psychological impact of being in a couple that offers stability and allows people to take more financial risks, increasing the likelihood of bigger returns.
"People get more confident if they know they've got a partner," says Koh. "If something goes wrong there is somebody there to back them up."
Victoria Beckham has been dogged by reports of husband David's alleged affairs throughout their 11 year marriage but she dug in her stilettos, stayed married and built a multi-million-dollar empire on the Beckham brand.
In 2004, David's personal assistant, Rebecca Loos, triggered a tabloid frenzy when she claimed she had a four-month affair with David.
The Beckhams have never admitted the affair took place, but Victoria later told W magazine it was a tough time and she never expected marriage to be easy.
"Yes, there have been bumps along the road. But the fact is we've come out of everything we've been through stronger and happier."
If anyone questions the economic value of her marriage, they need only consider the celebrity clout of the other Spice Girls (some of whom could actually sing, unlike Posh). Couples can be stronger than the sum of their parts.
Shane Cortese and Nerida Jantti's celebrity wattage increased when they married after meeting on Dancing with the Stars and have been darlings of the women's magazines ever since.
All Black Ali Williams goes a lot further on the social circuit with glamorous pole dancing instructor Casey Green on his arm.
Hillary Clinton navigated the wake of Bill's affairs to emerge as one of the world's most powerful women, helped by Bill's considerable political muscle.
These are smart, talented women who would no doubt be able to lead successful lives alone. Hartley Moore sees many clients, mostly women, who stay in marriages in which their spouse is cheating on them for financial and status reasons.
One woman would have been entitled to $15 million if she left the marriage but elected to stay. Another had $900,000 in the bank but was too afraid of losing her luxurious lifestyle to leave, asking Hartley Moore, "How would I ever survive?"
Hartley Moore has documented her experiences as a private investigator in her new book, Infidelity - Exploding the Myths.
She says staying for the money doesn't make people happy. They turn into watchdogs. "I think it's sad that women don't have enough self-respect to believe they are worth more than to be treated like that."
She thinks women should be more like Sandra Bullock and make a clean break.
But if they do, what do they get?
Under the Property (Relationships) Act 2001 there is a presumption that the husband and wife will walk away from a relationship with half of the relationship property each. That includes the family home (even if it was bought in one person's name before the relationship), jointly-owned property, and separately-owned property that has been intermingled with relationship property during the relationship.
The Act applies to couples who have been together for three years, whether they are married or not. While this seems straight forward, there are hooks in the law and many ways around it. Couples can contract out of the Act, at the start or during their relationships, to define exactly which party owns what.
Some of Hartley Moore's clients have received rude shocks when their relationships end and they discover their partner has siphoned money away into trusts that they couldn't access.
One client discovered her husband had bought two properties with his mistress during their marriage.
"Women need to be proactive," says Hartley Moore. "They need to know how much is coming in, they need to be aware of their financial situation."
While Hartley Moore is dealing with unhappy couples staying together to protect their assets, Daryl Evans, chief executive of Mangere Budgeting and Family Support Services witnesses families falling apart because of financial pressures.
Every break-up leads to the families being worse off financially than they were before the split, he says.
Harvelle Hendrix, Oprah Winfrey's guest relationship expert and author of Getting the Love You Want, says there is nothing wrong with gritting your teeth and sticking with a troubled relationship for money reasons.
He says staying together out of financial pragmatism can be a good thing because the couple has the chance to work out the problems in the relationship.
According to Hendrix, romance is a "fragile condition" that is easily eclipsed by practical matters.
The trick is making sure the relationship is first priority.
Next month, Hendrix is visiting New Zealand to conduct his Imago couples counselling workshops and give a series of public lectures. Husband and wife Peter McMillan and Brenda Rawlings, from Warkworth, are relationship therapists who teach the Imago therapy in New Zealand.
McMillan, who was a Marist monk for 10 years before becoming a therapist, says he was initially sceptical of a self-help guru from the US. He read Hendrix's book when he was having difficulty in his own relationship and is now a dedicated follower.
While troubled couples turn up on Rawlings and McMillan's doorstep with a range of problems, financial issues can be a strong incentive to stay together, particularly for middle-aged couples.
"An investment in making a relationship work is perhaps the best saving a pre-retiree can make," says Rawlings.
Middle age is just the time financial planner Liz Koh sees couples in crisis. They have established careers, the kids have left home and they are looking to expand into business. Suddenly their money personalities clash.
Koh defines four different types of money personality. Hoarders are the Scrooge McDucks of the world. They are risk-averse and are happy to sit counting their piles of money rather than spend it.
Achievers are ambitious, well-educated and like the trappings of success. They will put their well-earned cash into those trappings, such as fancy cars and private school education.
Entrepreneurs create wealth by taking risks and aren't too concerned by big losses because they're confident they'll conjure up big gains again soon enough.
Thrill-seekers are life's gamblers, who rack up high debt for instant gratification.
Most people are a combination of at least two personalities and these can alter during life, depending on different circumstances.
Trouble hits when a couple's attitudes to money clash. One partner may have a conservative approach while the other wants to risk big. Koh has seen relationships shatter in such situations.
Similarly, couples can get into difficulty when their money personalities are too alike.
Two hoarders are going to have a boring life, says Koh. "They will sit there counting their money and never doing anything." Conversely, two thrill-seekers could wind up wildly in debt.
The key is to find out what money personality you are and talk about it with your partner. "It takes all the tension out and improves all the nonfinancial aspects of the relationship as well." says Koh.
Population researchers in Australia have reported a growing gap between the economic "winners and losers" in society - and it's related to wedding rings.
"Marriage partnerships are being concentrated among the winners, and broken marriages, lone-parent families and single persons are among the economic losers," states a 2004 report by Monash University's Centre for Population and Urban Research.
Interestingly, women with post school education have higher marriage rates than their less-educated counterparts. Bob Birrell, one of the report's authors, says some people, particularly feminists, are surprised at this - assuming
that educated women with good earning potential would shun the "trap" of marriage. This is not the case.
The statistics are mirrored in New Zealand. Research by Paul Callister of Victoria University shows the percentage
of women aged 30-44 in relationships (married or de facto) declined from 74 per cent to 66 per cent between 1986 and 2006. The percentage of men in relationships dropped from 67 per cent to 62 per cent. However, the proportion of men and women in this age group with a tertiary qualification who were in a relationship had remained stable over the same period.
Seems the smart ones know what's good for them and the successful Hartley Moore is a good example. Despite her experience of the ugly side of marriage, on a professional and personal level, she has come down firmly in support of marriage.
She has been married four times, dealt with date rape, teen pregnancy, domestic violence, affairs and financial ruin. Now in her 50s and solidly in her fourth marriage she says she is the happiest she has been in her life. "The one thing I think people need to understand is there is nothing more valuable than peace," she says.
*Infidelity-Exploding the Myths by Julia Hartley Moore
(Exisle, RRP $34.99)
The cups runneth over
What happens when a Kiwi bloke ventures across the threshold of Smith & Caughey's to buy his wife some sexy lingerie for Valentine's Day? Rob Cox finds out.
There are a few things I try to avoid because of the disturbing anxiety levels they create. One is the dreaded parent-teacher interviews, where I spend 15 minutes apologising to a complete stranger. The other is shopping for lingerie.
I psyche myself up outside Smith & Caughey's for a good 10 minutes, work through the purchasing process in my head so it is fail-proof and, just in case, have memorised all fire and emergency exits.
I enter the store, approach a sales assistant and announce my intentions: I am here to buy underwear for my wife as a Valentine's Day gift. Phew ... that wasn't so bad. The smiling assistant pauses, pulls me aside and quietly explains, "That's all very well, sir, but you do realise you are in the shoe department?" I eventually discover the underwear section and immediately feel uncomfortable.
I don't know if it's the garments or the stares I feel I'm receiving from every woman in the shop.
My saviour, Ann, approaches and asks if I would like some help. I explain my predicament and she smiles knowingly. She's clearly met my type before.
Apparently, three types of men come into stores looking for lingerie. The first, like me, wander around trying to look
like they know what they are doing and finally ask for help once it's clear they haven't a clue.
The second is the more sensible gent who heads straight for the counter, asks for advice immediately and is out of there in two minutes flat.
The third (and I struggle to believe this type exists) is the bloke who enjoys shopping for lingerie and feels quite at home frolicking among the lace and corsets.
Apparently, all three share one thing in common-they leave it until the last minute. Every Christmas Eve and night before Valentine's, the shops are packed with men making last minute desperation purchases... haven't we learned?
The first grilling I receive is about size. It seems it is not uncommon for men to describe their partner's cup size with their hands. That, or pointing to other women in the store. I thought a more discreet option was needed: I just focused on a few sizes until one popped out at me.
So what am I after, exactly? Mmmm. There appears to be an incredible amount of red everywhere. I'm told that's the most common colour bought by blokes for Valentine's- How original.
More surprising is the amount of red lingerie bought for the Chinese New Year, when it is apparently good luck to stroll about in red knickers, regardless of your relationship status.
Even the blokes get redded-up for the New Year.
I have decided to opt for black, not because it's Rugby World Cup year, but because it is classic, understated and beautiful. I choose two pieces that kind of work together in a quirky, eclectic way.
Right, done, I'm out. Ann insists on placing an exchange card in the beautifully wrapped gift box. "I'm sure I got the size right but, if you insist," I say. (Tip for all blokes this weekend: Insist on an exchange card)
This has been traumatic and an experience I'm not keen to repeat.Yet, for some reason, I have a stupid flush of confidence - I feel I may have chosen the right thing this time.
What an idiot. I double-check to make sure the exchange card is still in the bag.