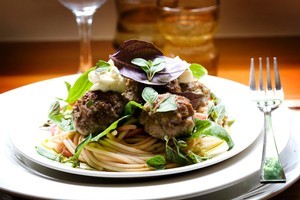 Serves 4
500g veal mince
2 cloves garlic, finely chopped
1 small onion, grated
1 Tbs Dijon mustard
2 tsp fresh rosemary, finely chopped
1 tsp brown sugar
1 egg
Salt and freshly ground black pepper
Olive oil
500ml tomato passata
200g spaghetti or angel hair pasta
100g ricotta
Fresh basil and oregano
1 Preheat oven to 200C. Put the mince, finely chopped garlic, onion, mustard, rosemary, sugar, egg and seasoning into a bowl. Mix thoroughly with your hands then form into small meatballs.
2 Brush a baking dish with olive oil. Add the meatballs and roll to coat with the oil. Spoon over the passata and bake for 15 minutes.
3 Meanwhile, cook the pasta in plenty of salted boiling water and serve with the meatballs. Add spoonfuls of ricotta and plenty of fresh basil and oregano.
Passata
Makes 3 cups
1.5 kg ripe tomatoes
3 cloves garlic
1/4 cup basil leaves
1/4 cup extra virgin olive oil
2 tsp salt
1/2 tsp white sugar
1 Put the cored tomatoes, sliced garlic, basil, oil, salt and sugar into a heavy based saucepan. Cook over a low heat for 2 hours then pass the mixture through a foodmill.
2 Return to a saucepan and continue to cook for a further hour or until the mixture has become a thick and rich sauce. If not using over the next few weeks, pour into sterilised bottles and store for up to one year.