Address: 166 Jervois Rd
Phone: (09) 376 5597
Website: vinnies.co.nz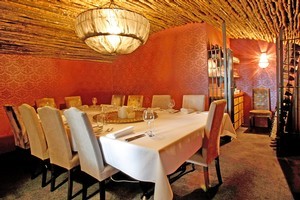 The week before Christmas we decided to visit Vinnies. All the posh people must have been at parties, because we had no trouble getting in.
The restaurant seems to have expanded since we were there last and they've certainly pumped up the ambience and service.
Our waiter, who has achieved fame in Ponsonby/Herne Bay - if not greater Auckland - for his prancing, wide smile and weak jokes, was a delight. Meanwhile, the art on the walls was edgy enough to completely banish the over-elegant, slightly stuffy atmosphere we'd encountered last time.
But we were here to eat and Vinnies certainly didn't fail us. For the first time, oysters that were touted as being just like Bluff oysters actually were. I had six of these beauties, grown on ropes in a Marlborough bay, and they were glorious. Served au naturel with vinegar, salt and pepper, they were large and all muscle, with none of that fat, flabby mouth-feel you get with other farmed varieties.
Call me mean, but I refused to share, so the men in our party ordered one each to taste and were similarly impressed. Vinnies came to the party by serving them in shot glasses with a slug of vodka. Brilliant.
They, of course, had entrees as well: black tiger prawns for Brian; a light-as-air smoked salmon mousse for Marcus and the duck and mushroom risotto for Andrea. My favourite, after the oysters, was the mousse. It was perfectly pitched, tasty, but with no hint of that acrid smoky tang that can ruin the smoked flavour and served with crunchy, tempura-style blue cod, which set it off well.
The tiger prawns were also outstanding. Served with foie gras polenta they were tender and juicy. Only the risotto was disappointing. As Andrea said, "After a few mouthfuls it gets boring. Everything tastes the same."
Exactly. As someone who likes to enjoy each flavour separately, I cannot understand the attraction of risotto, although my mouthful of this one proved it was made by a master. But then you'd expect that at Vinnies, one of Auckland's iconic fine dining restaurants.
Andrea did better with her main course selection of the wild hare pie. It arrived looking fabulous with its flaky, golden top, smelling better and tasting gamey enough to be spectacular.
Meanwhile the hapuku looked even better. Sitting on a tasty white bean with chorizo tart, it was cooked until it had just reached its sweet spot and cleverly accented by a plump koura (fresh water crayfish), a couple of rings of calamari and a tiny taste of New Zealand-grown saffron bouillabaisse.
My lamb was good without being memorable. Marcus, however, was visibly underwhelmed by the size of his cumin spiced pork belly, but then he's a massive eater. The pork was cooked with Asian flavours and served with snow peas and choy sum - a welcome change from the French/English/Italian styles we're used to eating.
Maybe it was because we were over-full, but the desserts were least-impressive. And although the chef went to great lengths to concoct a dairy-free option for me, he needn't have bothered. The apple terrine was okay but didn't go with the over-sour rhubarb sorbet.
Overall, Vinnies put on a class act. The service, if slightly over-the-top, was perfect. Our waiter knew the menu with its quirks and alterations off by heart. And, as we left, the whole service ensemble - chef and both waiters - came out to shake our hands and wish us Merry Christmas. And I'm sure it wasn't just because we'd spent $500.
Ed's note: Vinnies has changed its menu since our reviewer's visit.
Rating out of 10

Food: 9
Service: 10
Value: 8
Ambience: 8

Our meal: $500.50 for four entrees, main courses and desserts, plus two extra oyster and vodka shots, a bottle of Ngatarawa Alwyn chardonnay, four glasses of wine, a vodka and tonic and a beer.

Wine list: All-encompassing, great glasses and expert wine waiter.

Verdict: Expertly sourced and created cuisine. Although expensive, Vinnies just gets better.