Diana Clement discovers a nifty gadget to help her keep pace with her training for a half marathon.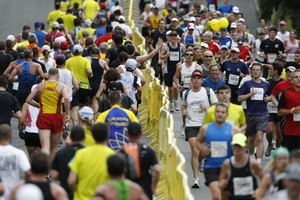 If there's a surefire way to this woman's heart, it's by giving me a nifty new piece of technology to try out. And when an adidas miCoach device came my way, I was hooked.
The little miracle device comes with a base unit called a "pacer", (about the size of a small MP3 player), an earphone, heart rate sensor, and a stride sensor.
It's an electronic personal coach and measures my speed, distance, heart rate, and calories burned. It then feeds back information verbally through the earphone.
Intrigued about the miCoach's possibilities, I couldn't wait to load the battery, charge the pacer and download a training programme from miCoach.com.
The programme choices include general "getting fit and staying fit" programmes and others specifically for soccer, tennis, basketball and 12 individual running programmes aimed at everyone from novices to elite athletes.
My aim was to run the adidas Auckland Half Marathon and miCoach.com gave me a choice of simply training to run a race or to finish faster.
I could wax lyrical about this device for hours. In fact, it was a great dinner party conversation starter for quite a few weeks. And judging by questions from friends and family, I wasn't boring the pants off them.
After most runs I plugged my miCoach into a USB port of my computer and synced with my personal page on miCoach.com, where I could analyse my runs visually, looking at how well I'd managed to keep to the coloured zones, which simplify the science of training. Or I could slice and dice the underlying statistics if I wanted to delve deeper, which I did obsessively.
The "Achievements" page on the website was one of my favourites. It showed the time, calories, distance, kilometres per hour, heartbeat, and steps per minute.
From "Dashboard" I looked at my weekly, daily and even "lifetime" stats. The website gives details of the latest workout, such as heart rate, pace and stride rate. The "Plan Tracker", showed how I'd done in every training run and offered helpful tips, such as trying to stay in the right heart rate zone by slowing down or speeding up when told to.
Each workout can be viewed in detail. For example on Thursday, October 28 I set out to run 30 minutes and within one minute my heart rate had leapt straight through blue and green. I'd stayed in the yellow and red zones for an entire workout, when I should have been cruising along in blue. Naughty me.
Training in the blue zone when you're supposed to means that you can put a greater effort into the higher intensity zones, a helpful article on miCoach.com explained.
One of the great things about a device such as this is that it a) keeps you honest by reminding you to keep to your training schedule and b) it stops you training too hard and too fast.
As someone who eyes goals single-mindedly, it's a great injury prevention tool. Although I jokingly called the miCoach my "torture device", it only ever told me to speed up once. Over and over again it told me to slow down.
I asked Kelly Sheerin, running mechanics clinic manager at AUT, about why my miCoach would want me to slow down when I was raring to run harder. Running harder and faster every time you go out, he explained, is a fast-track to burn-out and injury. A steady stream of people turn up at his injury clinic having done just what the device was telling me not to.
Sheerin also explained why the miCoach scheduled in "recovery runs" where I would usually have had a rest day. An active recovery session is better for your body than no run at all, an eye-opener for someone who had once got a training programme from a magazine and never thought about finer details.
Four nice features I particularly liked about the miCoach were:
1. The ability to map my run using Google Maps. If, like me, you make up routes as you go, it's nice to be able to map them, know exactly how far they are in kilometres and use them again. It also meant I could compare my stats for exactly the same run and find out if I was running faster, if my stride rate had changed, and how my heart reacted to the stress it was under.
2. Being able to post workout stats to "Brag Book" (Facebook). Some of my friends like sharing training details.
3. Unlike some of the other running devices I've seen that require you use certain branded running clothing and shoes, the miCoach accepts that not everyone wears adidas gear. The device is designed to sit in the pocket of adidas clothing, but also has a handy clip if you're pocketless. Likewise the stride sensor fits nicely into the purpose built hole in the bottom of my new adidas Riot off-road shoes. But it also comes with a clip so it can be attached to any shoe.
4. The folks at adidas realised that it's the norm these days to run to music, so they've designed the miCoach so that an MP3 player can be plugged into it. When the miCoach needs to make an announcement, it dims the music so that you can hear it.
Exercise technology can be addictive. As soon as adidas NZ's Rewi Manahi started demonstrating the miCoach to me, I could see the potential for even further technological enhancements - most of which adidas already has in hand.
In the near future it will be possible to plug your miCoach into your GPS-capable smartphone, to measure elevation as well as distance. And clothing is already being trialled in the United States that has the heart-rate sensor built into it - which means you don't have to wear a separate strap on your chest.
Be in to win!
We have one adidas prize package to give away, comprising a miCoach pacer device valued at $270, and a set of men's or women's running gear valued at $500, which includes running shoes, tights or shorts, T-shirt or singlet and a running jacket.
To enter the draw email your contact details to life@nzherald.co.nz with "adidas" in the subject line; or post to "adidas miCoach competition, NZ Herald, PO Box 3290, Auckland, by Thursday November 25. Wearing a miCoach device on her arm, Diana Clement (left) was able to keep track of her pace.