Diana Clement donned military-style attire, rising at the crack of dawn to give the latest fitness craze a go.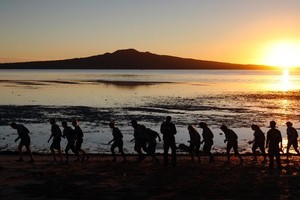 At dawn this morning, as you lay snuggled beneath the covers, thousands of New Zealanders lined up military style for a boot camp workout.
Never in a million years did I think I'd be one of them. The idea of standing in rank, and shouting "yes Staff", "no Staff" was quite simply alien.
Boot camps are a craze that has swept New Zealand. Thousands of "recruits" line up to be pushed to their physical limits several times a week for four to six weeks. It's gruelling, but many end up loving it so much they return for more.
My journalistic radar had gone up when I realised I knew four people doing boot camps independent of each other. It was enough to get me out of bed at 5.15am to observe. Or so I thought.
Les Mills' Takapuna service director Patrick Harris had other ideas for me and three days later I was lined up, in uniform, on Mairangi Bay in anticipation.
The first workout of many involved being dumped from a rubber dingy into the spring waters and told to swim back in before crawling, military-style, for 100m or so down the beach.
A fly on the wall might have been surprised to find that boot campers aren't all young and thin. Recruit Bischoff, for example, weighed in at 126kg and hated exercise before he started his first boot camp.
A health scare and orders from his doctor to lose weight came just at the same time his company, printing firm Benefitz, was offering to pay for staff to attend a boot camp. So he signed up to go through "hell".
He lined up at dawn three days a week to be yelled and screamed at. Days at work were spent wincing at the thought of moving off his graphic designer's chair.
"Boot camp was a whole new experience in pain for me," says Bischoff. But it melted away the fat - 26kgs of it to be precise.
Bischoff's no exercise fanatic - he still hates it and loves takeaways. But with six boot camps and a half marathon now under his belt, he reluctantly admits that he looks "not too bad" naked. The camaraderie of boot camp allows you to ask that sort of question.
Plenty of recruits like Bischoff choose boot camps for the "short sharp shock" treatment.
Recruit Dobson recently landed a job at an investment bank in London - only to be told she would be expected to train for the London Marathon with her team. That required radical action to fast-track her fitness before leaving New Zealand.
Another recruit, Bennett U - one of four members of the extended Bennett family, also from from Benefitz, who lined up on my boot camp - was unfit and overweight when she enlisted with a friend.
Unsure that she could do a full boot camp, she first booked into Les Mills' Look Better Naked course, which did exactly what it promised, before plucking up courage for her first full boot camp.
The military approach has the effect of overcoming any desire to slack off.
The exercises are often performed in cadence and runs - although split into two "forces" to cater for different abilities - are done in formation.
The routines are varied and often quite unusual. Our warm up on my third morning consisted of "medivac" lifts, where we teamed up in threes, taking turns to carry one member 100m.
Just my luck that I was standing right next to 97kg recruit Ensor when orders for this exercise were barked out.
Although there was no let-up, there were recovery periods. After a 70m sprint and 20 burpees, for example, we'd jog back slowly in formation - just enough time to grab my breath for the next exercise.
At the beginning even the muscles behind my ears hurt the day after a workout. By week three I was recovering faster and still able to find energy between boot camp workouts to start training for a half marathon.
Les Mills' boot camps involve three one-to-1.5 hour sessions a week. Tuesday focuses on cardio fitness with a big running component. Early morning commuters must have wondered what was happening as we ran in single file up Takapuna's Barry's Point Rd at 6.15am in the morning.
Thursday's objective was to increase strength - not to say that I wasn't out of breath most of the time.
Saturday is the "fun" session - often involving team events like carrying poles, ammunition cases, full water-cans and other military paraphernalia up hills and for set distances.
After a few weeks of this, I watched the basic training episode of Steven Spielberg's The Pacific and even yearned to try the assault course.
Some boot camps are harder than the one I did, some easier. And not all come with matching uniforms, backpacks, water bottles and military missions.
I popped along to a boot camp popular with school mums at Devonport's Mt Cambria.
The programme looked familiar, but it was done at a more sedate pace.
Boot camps do have their armchair critics. If I'd had a pre-conception, it would have been of a sergeant-major-type yelling out instructions to do 100 sit-ups in fast succession.
This type of exercise is dangerous and leads to injured backs and necks. It was a relief to realise that sit-ups, press-ups and other exercises were designed to meet military standards, so were as safe as physically possible.
One little fact stuck in my business brain. It costs Les Mills $300 to recruit a new customer, says Harris. If the boot camp costs $299 to participate, then you're not going to become profitable unless you're a repeat offender.
It makes no commercial sense, therefore, for Les Mills to risk injury to recruits.
Verdict: it has been a great life experience. I feel fitter, healthier and more enthusiastic about life in general.
4 of the best: boot camps
* Les Mills Boot Camps
Members: $100 deposit plus $6.60 per session; non-members $100 deposit plus $13.30 per session, see LesMills.co.nz/bootcamp
* FasterFitness
$249 for a five-week course, ph 021 855 555, see fasterfitness.co.nz
* Fitness Evolved
$250 for a 6 week course, ph 027 424 9591, see fitnessevolved.co.nz
* Power Station
$295 for members for a six-week course, $395 for non-members, ph (09) 535 3612, see power-station.co.nz