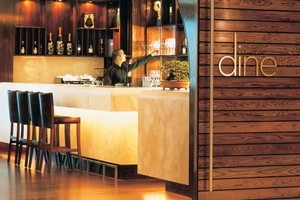 For a night of elegant food and fine champagne, the new "Dine Uncorked" Winemakers series at the restaurant dine by Peter Gordon sounds perfect. The main man himself has developed a special seven-course degustation menu with each course being matched with champagnes such as vintage labels from the famous house of Veuve Clicquot. The first evening in the series is on Monday August 30, and the special guest speaker will be Richard Yeomans, general manager of Moet Hennessy New Zealand. Tickets are $165 per person, and Viva has two tickets to giveaway to one lucky reader. The winners will also be able to spend the night in a luxury king room at the SkyCity Grand Hotel and have breakfast the next morning at the Terrace Restaurant.
To go in the draw, simply write your name address and phone number on the back of an envelope and send it to Dine Uncorked Competition, Viva, NZ Herald, PO Box 3290, Auckland. Entries close Aug 25. The winner will be notified by phone. Tickets to the dinner are limited, to book ph (09) 363 6000.
Cool kumara
A bunch of clever Westie folk have turned kumaras into a type of vodka. Known as Manu Shochu, the spirit is made with Owairaka red kumaras grown on the Kaipara and distilled in the Bay of Plenty. It comes in a 25 or 42 per cent alcohol level and there is also a 25 per cent lemon-flavoured version. It has a fabulous sweet aftertaste that works well in cocktails, dressings and also as a sorbet (recipe here). We love the packaging too, which is bound to be a hit in Asian markets. Go to manashuzou.co.nz to find out more.
Monday-itis
If you feel like starting the week off with a culinary thrill, finding a decent restaurant that is open isn't always easy. The good news is Saison, the French restaurant featured in Viva a couple of weeks ago, is now opening its door on Monday nights. 417 Manukau Rd, Epsom, ph (09) 631 5650.
Not just for Friday
It started off as little and only on Friday, but now it's bigger and open five days. That's the tucked-away Takapuna cake shop Little & Friday. Owner Kim Evans, who made the cakes for Ice It in Devonport during its early days, has recently taken over a neighbouring shop, enlarging her tiny almost year-old premises into an airy, shabby chic retreat. Don't expect a full menu, but there's always delicious cakes and a selection of savoury pastries made from scratch daily on the premises. Enjoy them with a tea or coffee or take away. Organic produce, including milk and meat, is used by Evans who gets help from her student daughter and a small staff. Cakes can also be made to order with 24 hours' notice. You'll find Little & Friday at 43C Eversleigh St, just off the main Lake Rd drag, turn right as Takapuna Grammar comes into view on your left. Open Wed to Sun from 8am to 3pm.
Humble pie
The word on the street is the pies coming out of the Hyatt Hotel's kitchen lately are delicious. Executive chef Nitin Kumar and his team have been busy baking everything from stewed rabbit pies to Moroccan spiced lamb pies, bouillabaisse pies to free range chicken, portobello and Spanish chorizo pies. There is also a range of gourmet sausages on offer. Hurry, this pie fest finishes at the end of the month. Ph (09) 355 1234.
Frozen treat
Exciting news for fans of oh-so-delectable Piako Gourmet Yoghurt - they've just launched Piako Gourmet Frozen Yoghurt. If you managed to sneak a taste at the recent Food Show you'll know how scrummy it is.
With three refreshing flavours - Lime Zest, Passionfruit and Lemon Curd - this yoghurt tastes far more decadent that it actually is. Free of preservatives, gluten and artificial flavours and colours, you can't feel guilty tucking into a tub of it. $14.99 from Nosh Food Markets. Go to noshfoodmarket.co.nz or piakoyoghurt.co.nz