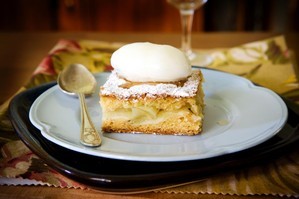 Serves 4
2 cups plain flour
1 tsp baking powder
1/4 tsp cinnamon
120g butter, diced
1/4 cup white sugar
1 egg
2 Tbs milk
3 cooking apples, peeled and sliced thinly
1 tsp finely grated lemon zest
2 Tbs white sugar, extra
Icing sugar
Sorbet - makes 1 litre
3 cups water
1 cup caster sugar
1/4 cup lemon juice
2 Tbs kumara vodka
1 egg white, lightly beaten
1 Preheat oven to 180C. Sift the flour, baking powder and cinnamon into a bowl. Using your fingertips, rub the butter into the flour mixture until it resembles breadcrumbs. Stir in the sugar, milk and the lightly beaten egg then tip on to the bench and lightly knead.
2 Divide the mixture in half. Roll out one and press into a lined 22cm slice tin. Top with the sliced apple and sprinkle over the lemon zest and sugar.
3 Roll out the remaining dough and press on top then bake for 30 minutes or until golden. Dust liberally with icing sugar before serving.
To make the sorbet: Put the water, sugar, lemon juice and vodka into a saucepan and bring to a boil while stirring to dissolve the sugar. Cool, add the beaten egg then pour into an icecream machine and follow the manufacturer's instructions.
Read The Dish for more information on kumara vodka.