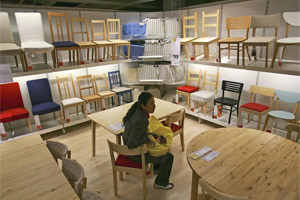 A Parnell business is making Ikea products available to Kiwis - at a premium.
Mykea, which is independent of the Swedish furniture giant, offers to import from Australia anything that New Zealanders want, plus a percentage in costs, and a delivery fee for orders under $500.
"Have you visited an Ikea store overseas and were frustrated at being unable to bring anything back to New Zealand? Have you seen Ikea in design magazines or heard foreigners rave about the fantastic products? The wait is over," Mykea says.
The new business says it takes care of customs clearance, tax, shipping and insurance issues and promises to get the goods to New Zealand within a month.
"Orders in June receive your items in July," Mykea says.
It charges $30 to deliver goods worth under $500 but all orders over $500 are delivered free. Minimum orders are $150.
Goods are marked up from the Australian Ikea price to the New Zealand Mykea price: an 80cm Maskros pendant ceiling lamp shade selling for A$199 ($244) costs $289 at Mykea and a Rofylld child's rocking chair selling in Australia for A$69 ($84) sells here for $109.
New Zealanders are directed to an Ikea Australian website to select their products, then asked to pay via Paymex on Mykea which handles the orders.
"If you only require a few items, you might like to get together with friends and family to reach the minimum order amount. There is no maximum order - purchase a whole kitchen if you wish," the firm says on the website.
A Mykea spokesman said he opened for business about three months ago and had been "inundated" with orders. Frosini Konidaris of Mykea said the business was owned by a New Zealand-based family trust, of which there were multiple trustees.
Cameron Brewer, Newmarket Business Association chief executive, said Auckland should be welcoming the furniture outlet store giant.
He criticised a social media campaign that said the retailer was potentially damaging to New Zealand's reputation.
"All this stuff about New Zealand not being big enough to cope with the resulting traffic is just rubbish.
"There are plenty of big site vacancies around the place at the moment. We've got Lion Nathan leaving Newmarket soon, so what about that 5ha prime location?" Brewer asked.
Another social network page calling for a New Zealand Ikea store is liked by more than 5000 people.
Selling now:
CEILING LAMP
* Ikea Australia: $244
* Mykea: $289
CHILD'S ROCKING CHAIR
* Ikea Australia: $84
* Mykea: $109