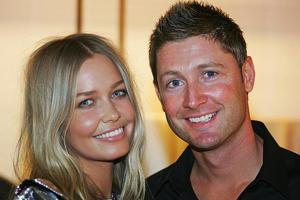 Is Lara Bingle, the model who will forever be remembered for wondering where the bloody hell we all are, so different from any other pretty pea-brained young girl?
She's been linked, as the papers euphemistically put it, to a whole string of high-profile sportsmen, including one very married one.
Clearly Bingle gets a tingle every time she smells liniment.
But, hey - so far, so Pony Club on a Saturday night.
She's young and gorgeous and there's probably a few girls around just like her - only thing is the average bint's trysts aren't reported breathlessly in the gossip columns.
With her latest man Bingle struck gold - Aussie cricketer, Michael Clarke, who's loved and supported her through her ups and downs, and through sneaky photos of her ups and downs.
But loving the original good time had by all doesn't come without cost and leaving his team-mates to fly home and be by Bingle won't have done Clarke's captaincy ambitions any favours.
If Bingle was a cricket player she'd be hopeless.
Unwilling to defend her crease, flighty and always going for the big shots.
If Clarke was captain, he would have sacked her years ago.